High Reliability Schools Level 2: Marzano Instructional Framework
An instructional framework is designed to create a common language for teacher and student achievement. The framework is organized into four domains and twenty three elements to define teacher actions, and to focus professional development offerings. This framework is aligned with the Iowa Teaching Standards that support teachings in their professional growth.
Iowa Teaching Standards
Demonstrates ability to enhance academic performance and support for implementation of the school district's student achievement goals.
Demonstrates competence in content knowledge appropriate to the teaching position.
Demonstrates competence in planning and preparing for instruction.
Uses strategies to deliver instruction that meets the multiple learning needs of students.
Uses a variety of methods to monitor student learning.
Demonstrates competence in classroom management.
Engages in professional growth.
Fulfills professional responsibilities established by the school district.
Learn more about Iowa teaching standards
---
Marzano Focused Teacher Evaluation Model
Standards-Based Classroom with Rigor
Standards-Based Planning
Planning Standards-Based Lessons/Units
Aligning Resources to Standard(s)
Planning to Close the Achievement Gap Using Data
Conditions for Learning
Using Formative Assessment to Track Progress
Providing Feedback and Celebrating Progress
Organizing Students to Interact with Content
Establishing and Acknowledging Adherence to Rules and Procedures
Using Engagement Strategies
Establishing and Maintaining Effective Relationships in a Student-Centered Classroom
Communicating High Expectations for Each Student to Close the Achievement Gap
Standards-Based Instruction
Identifying Critical Content from the Standards
Previewing New Content
Helping Students Process New Content
Using Questions to Help Students Elaborate on Content
Reviewing Content
Helping Students Practice Skills, Strategies, and Processes
Helping Students Examine Similarities and Differences
Helping Students Examine Their Reasoning
Helping Students Revise Knowledge
Helping Students Engage in Cognitively Complex Tasks
Professional Responsibilities
Adhering to School and District Policies and Procedures
Maintaining Expertise in Content and Pedagogy
Promoting Teacher Leadership and Collaboration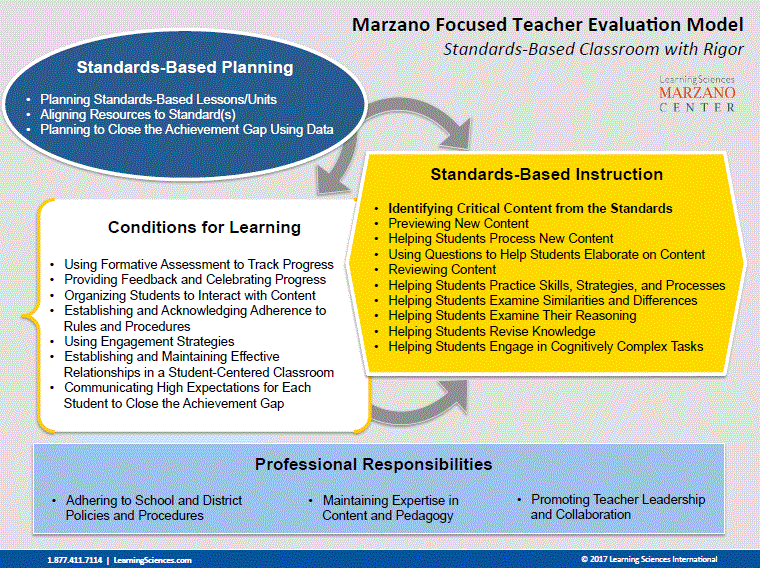 Contact Teaching and Learning
Dawn Schiro

Executive Director of Teaching and Learning