Maps & Boundaries
Norwalk is located just south of Des Moines, Iowa's capitol city. With a estimated population of 8,945 people, 3,261 households, and 2,472 families residing in the city as of the 2010 Census.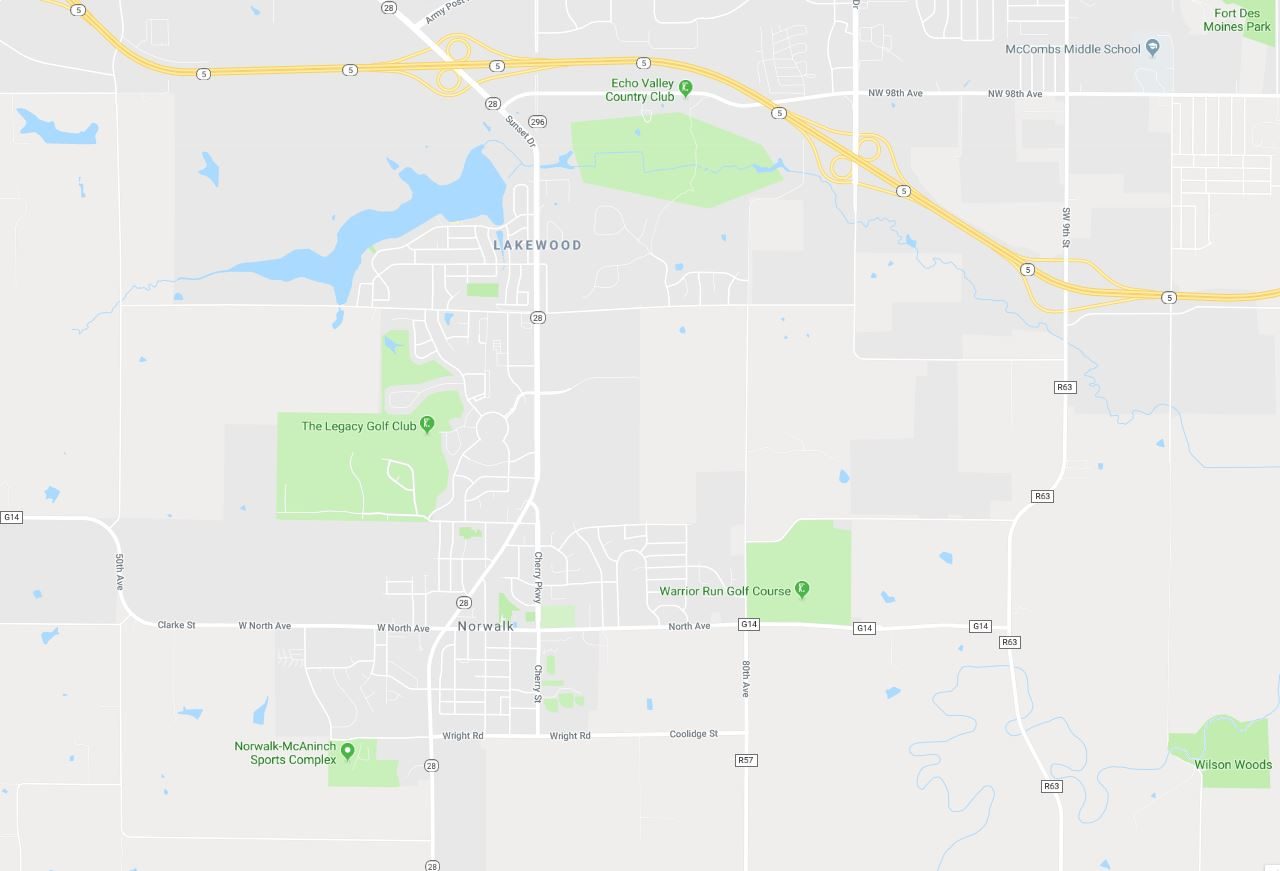 Neighborhoods and Development Areas
Lakewood
On April 1, 1989, the neighborhoods of Lakewood and Echo Valley Estates were annexed into Norwalk. The original Lakewood development was started in 1965 around the man-made Lake Colchester. The south shore of the lake is home to nearly 600 residences and the north side is being heavily marketed for its future development potential.
Echo Valley
The Echo Valley development began in the early 1970s, consisting primarily of residential properties intermixed with the Echo Valley Country Club golf course. Generally considered one of the more upscale areas of town, Echo Valley has emerged as the 2017 host of the Home Builders Association of Greater Des Moines' Home Show Expo, drawing thousands of visitors to Echo Valley.
The Legacy
The Legacy golf course community incorporating what used to be called the Colonial Meadows development, contains 18 PGA caliber golf holes, over 900 residences suitable to a wide range of housing budgets, and an increasing variety of commercial opportunities for what has become the geographic center of the city. The development incorporates commercial development along Iowa Highway 28 and a regionally-unique circular central road which will be completed in 2018.
Rolling Green and Warrior Run
The southeast portion of the city contains the Warrior Run golf course as well as several residential developments that will add hundreds of housing units to the city. Rolling Green will consist of some 250 plus homes, and the Warrior Run Estates development area will add at least a further 100.
McAninch Sports Complex and Norwalk Business Center
A combined development proposal established the McAninch Sports Complex, host to softball, baseball, and soccer events, as well as the Norwalk Business Center, home to multiple industrial users such as meat processing, stone cutting, building materials wholesale, and electronics manufacturing. Windsor Windows is constructing a 160,000+ square foot manufacturing center in the southernmost portion of the business park. Recently, Michael Foods announced the construction of a distribution center which will add $85 million of investment in the city and will be the largest single-site taxpayer in Warren County.
According to the United States Census Bureau, the city has a total area of 11.09 square miles (28.72 km2), of which, 10.74 square miles (27.82 km2) is land and 0.35 square miles (0.91 km2) is water.