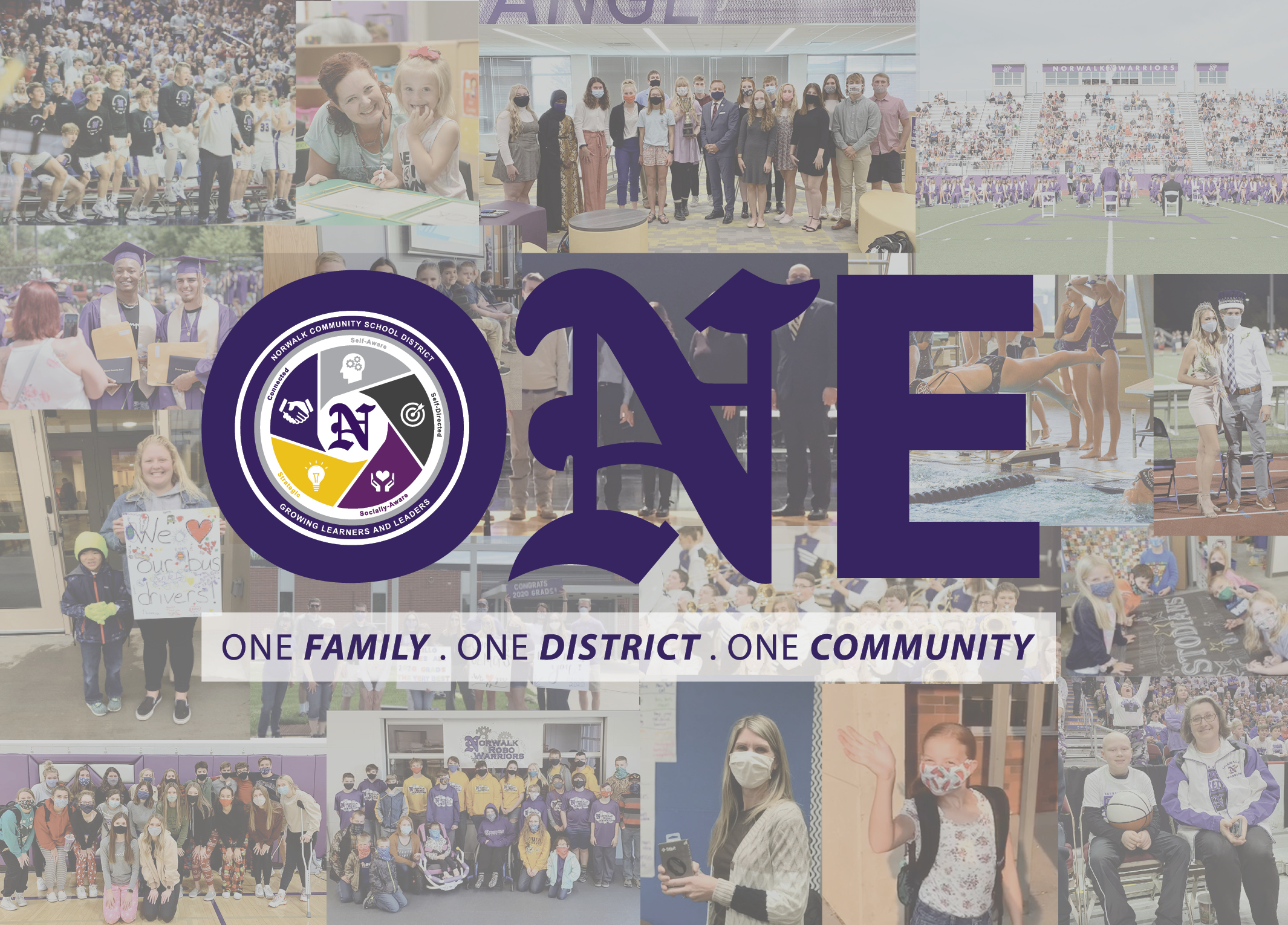 The innovative, flexible and often courageous response of the Norwalk Community School District to the massive challenges of the Covid 19 pandemic has earned the District the 2020 Pivot Award of the Norwalk Area Chamber of Commerce
The Pivot Award, created by the Chamber as a special one-time only recognition of a local organization's courage and leadership amid the pandemic year, was presented at the Chamber's 28th annual Awards Banquet, attended virtually by more than 125 community leaders on January 22.
District Superintendent DT Magee said, "the award honors the achievements of the district's 3,299 students in pre-kindergarten through 12th grade in six buildings, its 235 classroom educators, 254 support staff members encompassing administrators, counselors, nurses, custodial teams, transportation drivers and the NCSD Board of Directors." And, he adds, "The parents who supported their children and the district's decisions and activities have been critical to our achieving a successful school year which began in March 2020 and is continuing daily during the months of 2021."
The district began the 20-21 academic year in late August with in-classroom learning, after halting classes in spring 2020 as did all Iowa school districts when the coronavirus dangers were first reported in the state. Many traditional activities took on new looks after March such as a socially-distanced commencement for the Class of 2020 at the football stadium, a state 3A high school basketball championship won by the Norwalk team in a virtually empty Wells Fargo Arena and a state baseball championship in a socially-distanced Principal Park, and even changes in such basics as morning opening procedures and lunchroom logistics.
"We are so pleased that this award recognizes all the efforts and experiences of our staff, our students and our community since March and into this school year," Magee said. "Everything that has happened demonstrates more great examples of the community spirit and commitment to education that make Norwalk such a special place."
Magee said the district, identifying itself as a professional learning community (PLC), is focusing on collaboration to develop and implement policies and procedures to meet education goals during the pandemic. "Our administration team collaborates with building leadership teams and ultimately with educators and staff members to determine what will work and to implement it successfully. We're also pleased that parents provide ideas and input as we all work through this challenging year together."
The district's mission – Growing Learners and Leaders – has been the foundation for the successes that have led to the Chamber's recognition, he said. "We've defined a portrait of our students as learners, encompassing self-awareness, self-direction, social awareness, strategic thinking and connection. Together, everything we're doing this school year and beyond carries out our mission and assures that our students are successful learners as we strive to meet the theme for our district this year: ONE – One Family, One District, One Community."
The award was accepted on video at the Chamber's virtual event by faculty members and students: Kaden Major, Kamryn Barr, Sumaya Ali, Mason Anderson, Ava Ruther, Savana Miller, Sydney Jackson, Olive DeRocher, Sophia Stevens, Karlin Fletcher, Janet Dirks, Russell Place and DT Magee.
---