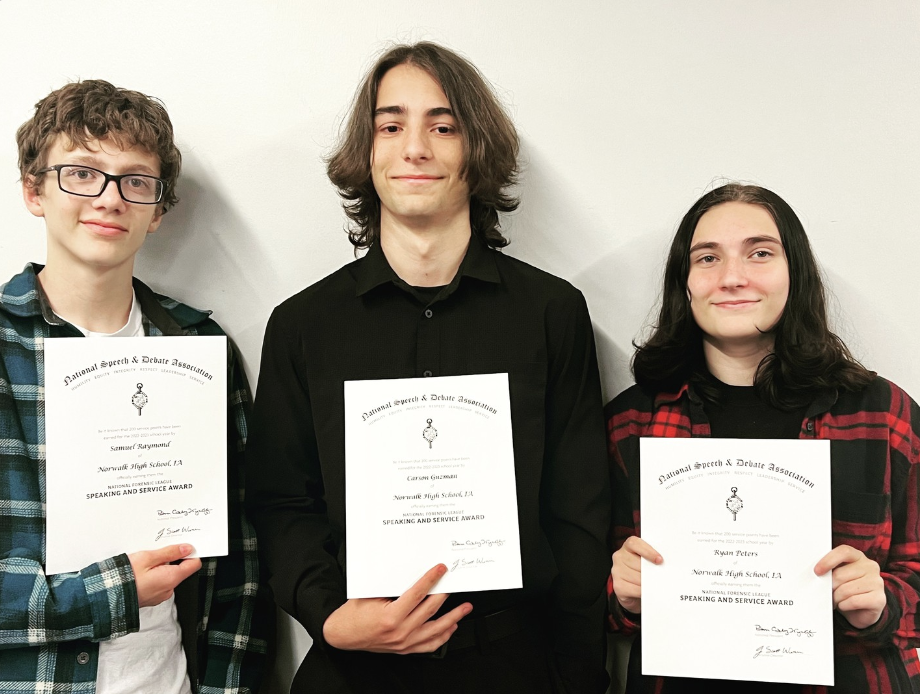 OUTSTANDING! Congratulations to Sam Raymond, Carson Guzman and Ryan Peters on receiving The National Speech & Debate Association's 2022-2023 Speaking and Service Award!
The National Speech & Debate Association is proud to announce the winners of the 2022-2023 Speaking and Service Award, which recognizes students who have reached the maximum number of service points in the student Honor Society. From more than 140,000 members, fewer than 140 students received this recognition.
The National Speech & Debate Association's Honor Society recognizes students for participation in speech and debate activities. Students earn distinction through speech and debate competition, as well as community service, public speaking, and leadership activities.
Example service activities include judging a speech or debate round or coaching a practice for younger competitors.
"These students have demonstrated their strong commitment to using their speech and debate skills to help their peers, community, and this activity," said National Speech & Debate Association Director J. Scott Wunn. "The Speaking and Service Award not only represents hours of work on behalf of others, but is evidence of these students' culture of service. We are proud of their achievements!"
FROM COACH SUTHERLAND: One of the ways these Norwalk debaters earned this honor was by putting in many many hours of work planning, strategizing, implementing, teaching, judging, and supporting the Norwalk Middle School Debate camp last spring. Their hard work and dedication showed as they and other NHS debate leaders coached the middle school team to win the first ever Central Iowa Debate League (CIDL) Middle School tournament. These are three fine examples of how Norwalk supports our students to become Learners and Leaders!
---