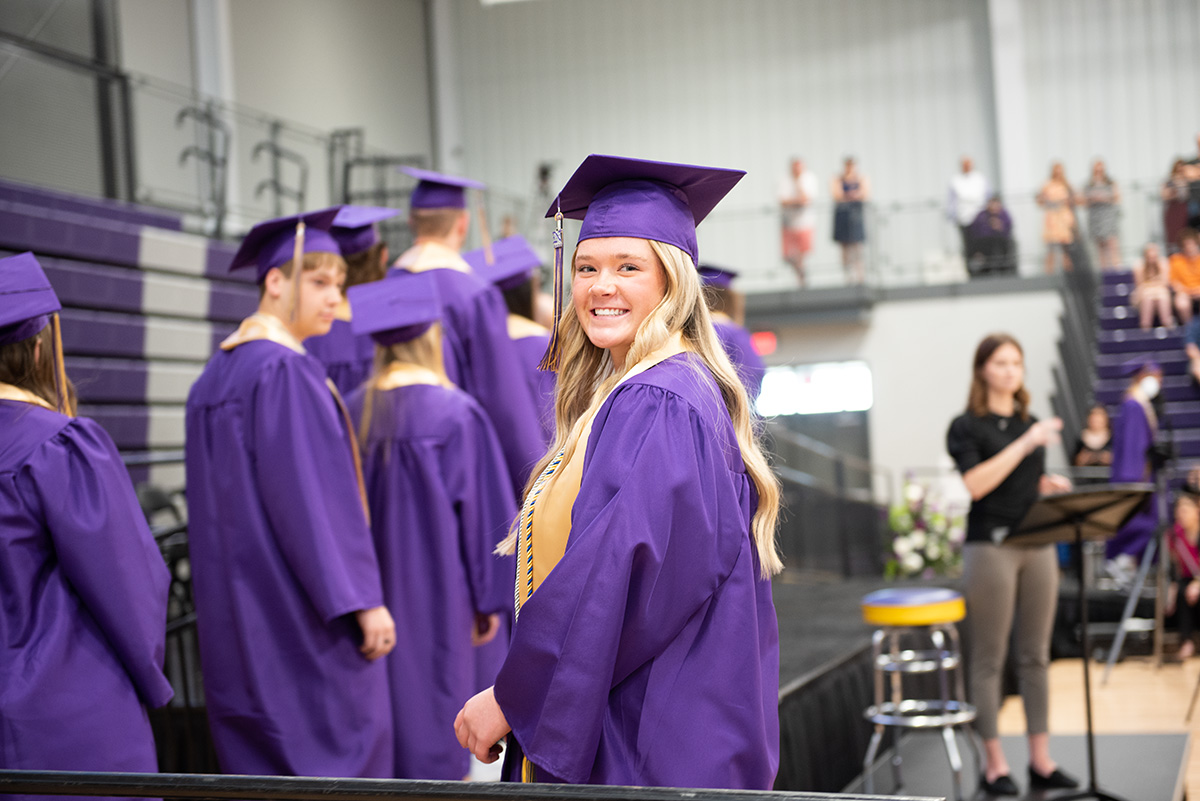 Written by Ruby Hoch, Norwalk High School Social Media Intern
I moved to Norwalk halfway through my first grade year. It was 2012, I was six, had just celebrated my half birthday (summer birthdays! IYKYK). I was very nervous and yet excited to start a new school, meet new people and hopefully make a few new friends. What I didn't realize was that Oviatt was also looking forward to meeting me, preparing to help me learn the ropes quickly and creating ways for me to make friends for a lifetime. As I reflect on my journey through elementary school, middle school and high school, what I'll remember most was the support I have received to move successfully though each stage of my education and the encouragement to confidently embrace my future.
As a scared little six year old, I recall the kind face of Ms.Chittenden and the support she provided me in learning how to navigate a new school. She partnered me with another, slightly wiser, first grader who had the advantage of being at Oviatt for one and half years. She was handpicked as my guide and later became a friend. Upon discovering that Mrs.VanderHolt, the Oviatt school nurse, generously gave out a tooth necklace to those who lost teeth at school, I promptly wiggled and wiggled my two front teeth with hopes of getting a necklace, an encouraging smile and hug or high five from Ms.VanderHolt. I managed to bring home several tooth necklaces and was often bolstered by the sweet hugs and high fives.
It was there, at Oviatt, in those first few weeks, where I developed a solid foundation and trust in school. I understood, at the most basic level, that the administration and my teachers cared about me and my success. The support I received early on set me up for even more success as I navigated the avenues of Lakewood, the four corners of Norwalk Middle School, and eventually, the halls of Norwalk High School. That support has taken on many different forms over the years. 
It was in  . . .
the encouragement by Mrs.Anderson to confidently read school announcements over the PA system to the entire school.
the confidence Ms. Sinclair had in me that allowed me to believe I had the potential to be a good student.
the warm invitation to join Mrs. Down's & Mrs.Stouli's leadership group at the middle school.
the challenge I received by Mr. Heltman to choose the harder flute selection for my 7th grade solo competition.
Mr. Grabe's invitation to become a football manager for the 7th grade football team.
Mrs. Wiedmann and Mrs. Popken commitment to lead Dance Marathon, providing so many students, including me, the opportunity to flex some leadership skills.
the Norwalk football coaching staff empowered me to play a key supportive role in a male dominated sport.
Mr. Wermeskirchen encouraged confidence and poise on and off the course and showed me that you can have a little fun while being competitive too. 
the guidance Mrs. Krupke gave when she uncovered my desire to be more involved in the world of social media and then the trust Mr. Basinger showed allowing me to create and manage the NHS social media accounts. 
the most pure, kind and genuine support from Mrs. Flores throughout all four years of High School.
As I prepare to leave Norwalk schools, I know that I carry the love, support and encouragement of all my teachers, the staff and administration. You've all made an indelible mark in my life. Thank you and know that because of you, I'm prepared to take on the next leg of this incredible journey and I can embrace the future with courage and confidence.
– Ruby
---