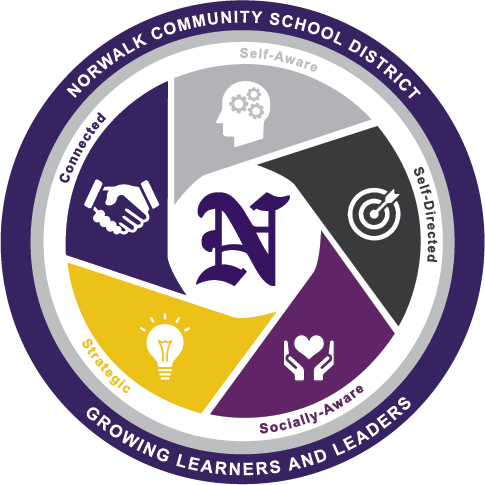 3/9/23
For Immediate Release:
Norwalk Community School District Superintendent, Duane (D.T.) Magee has announced his plans to resign at the end of the 2022-2023 school year. Mr. Magee has served as the Norwalk CSD Superintendent since 2016. Effective July 1, 2023, Mr. Magee will begin serving as the Executive Director of the Iowa Association of School Boards. 
During his tenure as Superintendent, D.T. has helped lead the district, with the direction of the Norwalk School Board and the assistance of the Administrative Team, through a time of significant growth and development. Some of DT's leadership highlights include major facility planning and construction projects to address enrollment growth, the vision of developing a new mission statement "Growing Learners and Leaders" that helped contribute to the District's Portrait of a Learner vision, increasing the annual graduation rate, the implementation of The Leader In Me program, and a district-wide rebrand. 
The NCSD Board of Directors, with assistance from the Administrative Team, will begin the process of selecting the next Superintendent soon. The Board has selected Grundmeyer Leader Services search firm to lead the hiring process of our next Superintendent. More information will be communicated about the hiring process as soon as it is available. 
"On behalf of the entire Board, I would like to congratulate D.T. on his new position as Executive Director of the Iowa Association of School Boards.  I am confident he will be successful in advocating for all students and public schools throughout the state of Iowa and nationally.  Over the last six years I have appreciated D.T.'s passion for providing a quality education for Norwalk students.  Working collaboratively with the Board, Administration and staff, D.T. has led us through challenging years and has been integral in our team achieving many successful outcomes for the District. We wish him all the best in his new position at IASB." – Maribeth Wright, Norwalk School Board President 
D.T. Magee Statement:
I want to thank the NCSD Board of Directors, Administrative Team, and all NCSD staff members I have had the pleasure to work with during my current tenure.  It has been an amazing ride and I am filled with a sense of accomplishment for all the good work that has happened in our District during the past six plus years. It has truly been a team effort. Thank you all for the hard work you do each day to grow learners and leaders! Our District is in a great place and I look forward to even better times ahead under the leadership of the next Superintendent. Go Warriors!
---