Dear Norwalk CSD Families,
The 2020 school year has not gone the way any of us would have imagined and I want to thank all of you for the patience, grace, strength, and kindness that has been consistently and widely displayed toward and for Norwalk CSD students and staff members during these extraordinary times.  Please know that the district is hard at work planning for the 2020-2021 school year in order to provide a world class learning environment for our students.
Recent events, like the tragic death of George Floyd in Minnesota, have brought to the forefront the tremendous challenges our country faces and the increased need for the theme for our district this year – Connect.  Norwalk Schools will continue to see increasing diversity and for our district and communities to succeed, we must continue to connect in meaningful and positive ways with people who may be different from any of us individually.
Our children and students are watching us through these challenging times, and it is up to us to provide positive leadership and uplifting examples about how to respond when times are tough.  The Norwalk CSD Mission Statement is "Growing Learners and Leaders" and the district Portrait of a Learner emphasizes growing self-aware, self-directed, socially-aware, strategic, and connected learners.  That is the challenge for us as a district as we go forward, how will we continue to help ALL of our students grow as learners and leaders in meaningful ways in order to be the change we need to see in our country?
The Norwalk CSD continues to implement The Leader in Me program that includes the 7 Habits of Highly Effective People. Due to the ongoing pandemic and civic and social unrest going on in our country right now, my thoughts have turned toward Habit 5, "seek first to understand, then to be understood".  I challenge all of us to seek out different viewpoints, listen for understanding, find common ground, and most importantly, BE KIND.
Yours in service,
D.T. Magee
Superintendent
Norwalk Community School District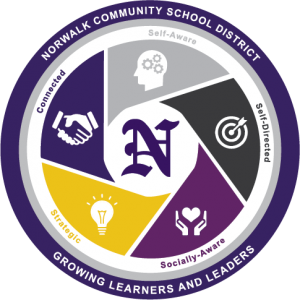 ---