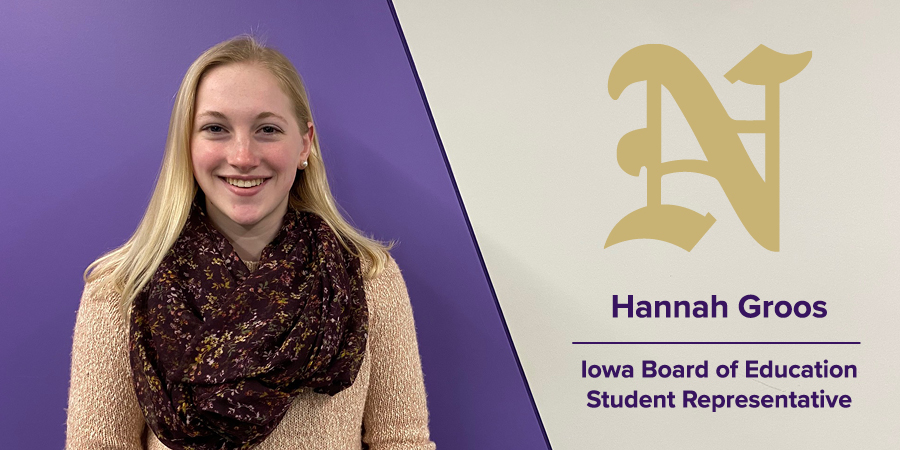 HGroos_Official_ Norwalk Press Release 2.27
The NCSD is thrilled to share that Hannah Groos, 10th grade Norwalk HS student has been selected by Gov. Kim Reynolds as the 2020-2021 Iowa Board of Education Student Representative! Hannah will serve on the Board for a full calendar year as the only student representative member. Hannah is an active student who demonstrates her talents in many activities which include Girls Who Code (GWC), FIRST Robotics, Student Council, Band, Swim Team, Track, The Iowa Student Learning Institute, Technovation, 4-H, and the Leukemia and Lymphoma Society Student of the Year Campaign. Last summer, Hannah attended the Emerging Rural Leaders Summer Scholars program at the University or Chicago. This program brings students from rural areas across the US on full scholarships to the University of Chicago for a one-week, once-in-a-lifetime opportunity. During this program, Hannah was able to meet motivated youth from across the country, emerge herself in Chicago's culture, and grow her leadership and critical thinking skills. 
 Hannah is looking forward to serving in her new role and very excited to contribute to the Board. She is currently considering her path in furthering her education and weighing college choices as she explores career options in Computer Science, Psychology, and Leadership and Entrepreneurship. Congrats to you Hannah!
---