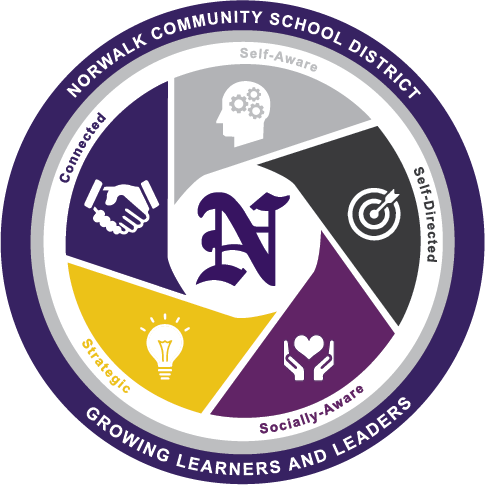 Dear Norwalk Community School District Parents and Guardians – 
 As you may know, there have been ongoing discussions surrounding diversity, equity and inclusion within our school district. We are saddened to hear there are still students in our community and within our district that feel harassed or marginalized due to their race, gender or sexual orientation. This is simply not acceptable.
Our most important goal as educators is to create an emotionally safe learning environment for all students. Over the course of the past year, throughout the ongoing pandemic and tragedies surrounding racial injustice, it has become clear that listening and learning from our most vulnerable students should be a top priority.
Given this, we conducted a student, staff member, and parent/guardian long-range needs assessment survey earlier this school year and are holding roundtable discussions with selected students centered on the culture of safety within the Norwalk Community School District. Based on our survey findings and ongoing feedback from students, staff members, and parents, we know we must make continued improvements in this area. 
In the past year, a group of Norwalk High School students created a Diversity, Equity, and Inclusion (DEI) group. This group meets regularly with district administrators, and will meet with the school board in an effort to address areas of concern in our district. These discussions are helpful for us to understand the lived experiences of underrepresented students and to chart a path forward. 
Rest assured, these efforts are something the school board, administrators, teachers, and support staff members at all levels are taking seriously in the Norwalk Community School District. As parent or guardian of a current student (or students) in the district, you also play an important role in this process. Your continued assistance in supporting and helping create a safe learning environment for ALL students will be critical to our success. 
Even though we have taken positive steps, we understand from the DEI roundtables, the needs assessment survey, and other feedback from students, staff members, parents/guardians, and community members that we have more work to do. Moving forward, we are committed as a district to a path of continuous improvement efforts in the areas of diversity, equity, and inclusion.
Ultimately, the work of creating a respectful, unified and inclusive environment is never "done." This work must be active and intentional and evolve as we learn and grow. It takes all of us – administrators, leaders, parents, guardians and students – coming together for authentic conversations with a shared goal of creating spaces where ALL students can be their best selves. 
If you have additional questions or feedback on our efforts or your experience, please feel free to reach out to Superintendent Magee directly. Together, we will continue to build a school culture of which we can all be proud. 
Respectfully,
D.T. Magee, Superintendent and Maribeth Wright, School Board President
---