Dear Warrior Families,
As you know, the 2020-2021 school year will be different than previous school years and we will be redefining what a "normal" school day looks like. Returning to school in the fall of 2020 poses many new challenges for Norwalk Schools, including implementing mitigation measures (e.g., social distancing, requiring the use of face coverings when social distancing is not possible, increased cleaning and disinfection regimens, increased education on health hygiene, practices, etc.), addressing social, emotional, and mental health needs of both students and staff, preparing for the probability of COVID-19 cases in the school community, just to name a few. As always, our main goal is to protect the health, safety, and well being of our students and staff as we prepare to educate students this fall. As said many times, this is a fluid and flexible situation that can change at any point. We will continue to take direction from the CDC, Iowa Department of Public Health, Warren County Health Services, Iowa Department of Education and other public health agencies.
Below are a few changes we wanted to make you aware of as far as the health office:
Medications

should be given at home whenever possible, especially once a day medications. Please refer to NCSD

Board Policy 507.2 Administration of Medication to Students

. Please contact  your school nurse to make arrangements for medication drop off.  We also encourage sending one week's worth of medication at a time.

Nebulizer treatments

are considered an aerosol-generating procedure; therefore, nebulizer treatments needed to deliver asthma medication will need to be switched to a metered dose inhaler or dry powder inhaler.

 

All inhalers to be used at school will be encouraged to have a spacer.

Administration of

acetaminophen and ibuprofen

will be considered carefully before given as they can "mask" a fever and/or headache as those are symptoms of COVID-19.

There are currently no exemptions (other than

religious

and

medical

) for required

immunizations

.

These need to be done before the first day of school. This includes both in-person and remote learners.

Students who are ill

should not attend school in person. Monitor your student each morning for

signs of illness

. Please refer to the Student Health and Illness Protocols on our

School Nurse web page

. 

To ensure the health and safety of our staff and students, our secretaries will be asking a

few questions about your student's illness when you call

to report them absent in the morning. If leaving a message, please leave details about your child's illness.

Per CDC and Public Health guidelines, any student who exhibits

Covid-like signs/symptoms

will be immediately placed in an isolation room.

Due to the wide range of signs and symptoms of Covid-19, and for the safety of all, many students may be sent home

. Ill students can return after following school policy and/or have met guidelines recommended by Public Health. Ill students will be encouraged to talk with their primary care provider for medical advice.

If your student contacts you directly from school about being ill

, please make sure they have gone through the school nurse prior to leaving school. This is necessary for symptom tracking and contact tracing.

Norwalk Community Schools will

follow guidelines from the CDC, IDPH, and Warren County Health Services (WCHS)

regarding students who have possible or confirmed Covid-19, possible Covid-19 exposure, or is a close contact to a positive Covid-19 case while maintaining confidentiality. 

Upon returning to school after Covid-19

, you and your student will need to check in with the nurses

prior

to re-entry to ensure that CDC/IDPH/WCHS guidelines have been met. 

Please have several emergency contacts on file

for your student and have an emergency contact who is able to pick up your student within

30 minutes

if you are unable to. 

If your student has any increased health risk factors or is considered immunocompromised

please contact your school nurse before school starts to discuss and review your student's medical condition and to develop a health plan. It is important to discuss your student's medical concerns with their primary care provider before starting school. 
Please feel free to contact your school nurse if you have any questions. As stated, this is a fluid situation and expectations, guidelines, requirements, etc. can change from day to day. 
Please remember that we will continue to keep your student as safe as we possibly can, but there is no scenario where we can guarantee 100% that your student will not get ill. 
We ask that you talk to your student about precautions they can take at school to help keep them healthy, e.g. washing and sanitizing their hands, wearing a face mask (required), socially distancing themselves from others, etc. There are videos below that we will be showing students in the classroom. Please feel free to watch them with your children before school starts. Children model what they see and you are their biggest role model.
Thank you.
Norwalk School District Nurses
Video links:  
Handwashing vs. Hand sanitizer
Properly Wear and Care for Your Cloth Face Covering   
Videos for younger children:
Hooray for Handwashing -hand washing hygiene for preschoolers
Nurse illness guidance for parents – Aug 2020 (1)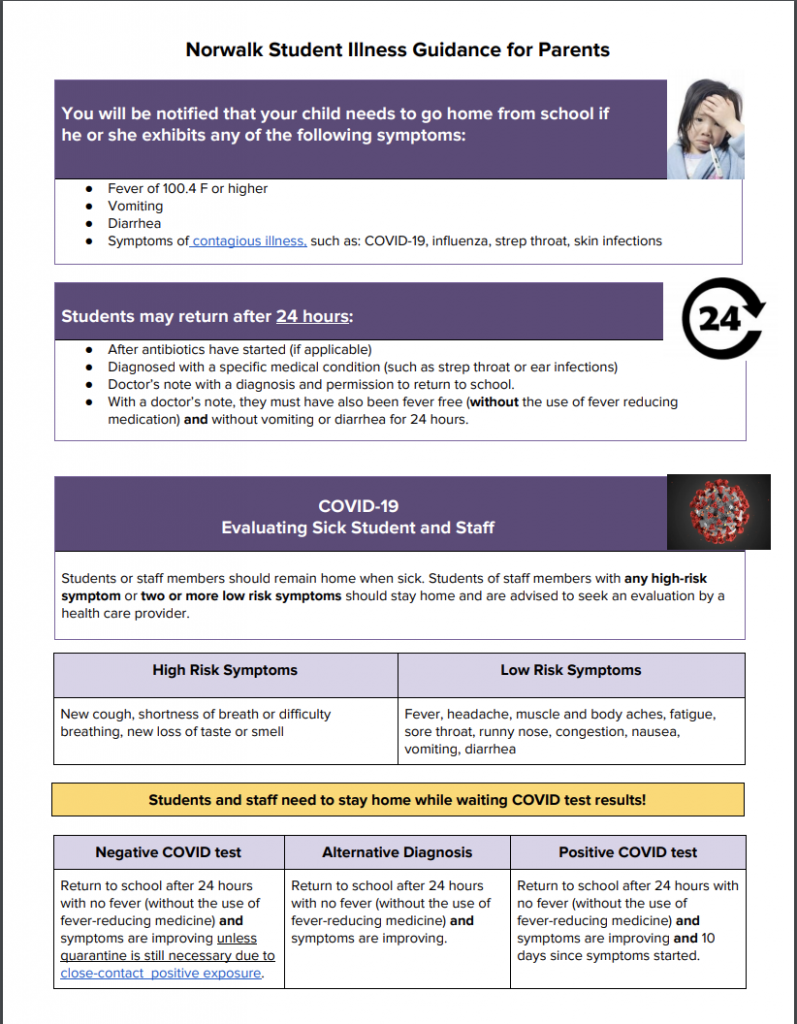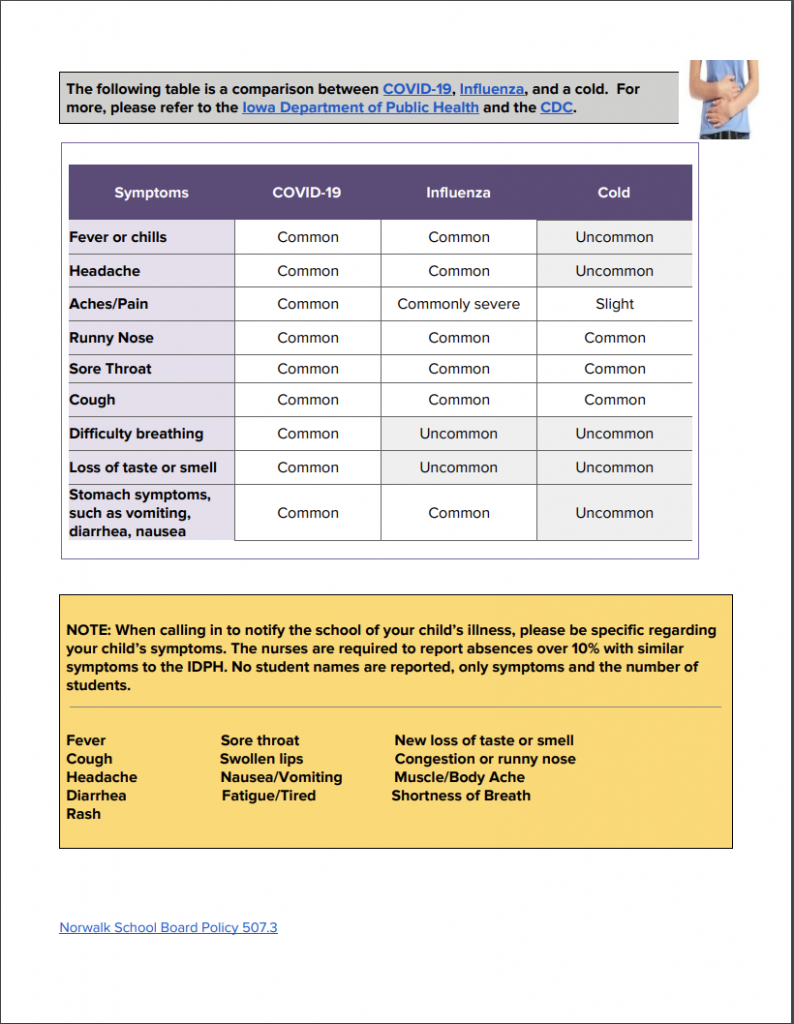 ---