Graduation will be held Saturday, May 25th at 10:00am at Blake Fieldhouse in Indianola – 403 S. 15th Street.  It is on the east side of Indianola just off Hwy 92 at Indianola Middle School.  Seniors report no later than 9:15am to prepare for the ceremony. Doors will be open at 9:00am.
If you need to reserve handicapped seating please email Kelly Allman at kallman@norwalk.k12.ia.us.
There should be plenty of parking at Blake Fieldhouse.  However, more parking is available at Indianola High School.  Shuttle transportation will be provided to the Blake Fieldhouse.
If you are planning on attending graduation, please see the image below for parking and note the following:
Doors open at 9:00 am.
There are several areas designated for parking (see image). Please no parking on the grass around the complex.
There are three entrances to the Blake Fieldhouse (see image).
Additional parking is available at the High School, which is located north of Highway 92.
There is a drop-off and pick-up area on the access road near the north entrance of the Blake Fieldhouse. Please do not park in that area.
Handicap parking is available (see image).
Using the west entrance will allow you to gain entrance to the Blake Fieldhouse through the Middle School.
If you park in the south (Little League) parking lot, you can gain access to the Blake Fieldhouse by walking across the soccer fields to the south entrance (see image).
Overflow parking will be offered across highway 92 in the Indianola High School lot.  A shuttle bus will be provided for transportation to the middle school.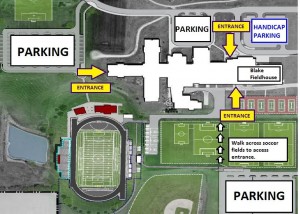 For directions to Blake Fieldhouse at Indianola Middle School, please follow the link to the Google map:  https://goo.gl/maps/dzG5U4HjKmx