RAI for ISU UNI & Iowa
Below is the link to the RAI (Regent Admission Index) for the State of Iowa's regent universities.  The admission score of 245 is the score to make a student eligible to be admitted to Iowa, ISU and/or UNI!  Remember your core courses are science, math, English, social studies, and foreign language.  Since Norwalk uses 1 credit per semester for courses – the suggestion is to add up your courses and then divide by 2.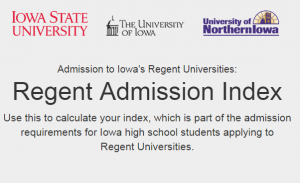 Changes to the RAI in effect Summer of 2020! See more information below!
The number of Iowa high schools choosing to discontinue class rank has continued to grow. As such, effective for students entering the Regent universities Summer 2020 and beyond, one RAI formula (shown below) will be used to calculate the RAI scores for all freshman applicants, regardless of whether their school provides class rank.
RAI Formula
(for all students entering Summer 2020 or beyond)
ACT composite score x 3
+ Cumulative GPA x 30
+ Number of years of high school core courses x 5
RAI score
Iowa resident students who achieve at least a 245 RAI score and who meet the minimum high school course requirements are automatically offered admission to any of the three Regent universities. Students who achieve less than a 245 RAI score and who meet the minimum high school course requirements will continue to receive individual review from the Regent university to which they applied.
During this transition period, the Regent universities will give special consideration to any applicants who may be disadvantaged by this change.
---
Norwalk Courses used for the RAI (Iowa, Iowa State and UNI)
RAI NORWALK SENIOR HIGH SCHOOL, NORWALK
Click above link for the pdf