Registration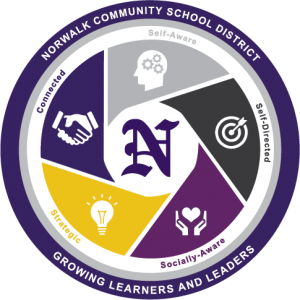 Norwalk welcomes all students that live within our district to be a part of the Warrior Way!  While we strive to reduce the burden of paperwork for our parents and students, federal, state, and district registration and reporting requirements result in collection of a significant amount of information.
Norwalk School District is closed to open enrollment. This means you must reside within district boundaries to attend Norwalk Schools.
Please use a Windows laptop or desktop computer to complete the Online Registration (OLR) process. Recommended web browsers are: Google Chrome, Firefox or Safari. While we recommend using a computer to do the process, you can complete the application on an apple or iOS device if you use the Puffin browser app. The Puffin browser is available in the Apple App Store at this LINK.
If you have questions not addressed in the FAQ, feel free to contact the registrar
As we begin the 2020-21 registration process we would like to answer some common questions we've received, especially regarding Kindergarten families.
Registration Application -Families with children currently attending Norwalk Schools (K-12th) and will be adding a kindergartner student starting in 20-21 will register through their parent portal account.  Families registering their first child as a kindergartner will use the "New Families" link on the Norwalk School website.
Birth Certificates-Students who attended a Universal PK Program through one of the following centers….Crayons2Pencils, Oviatt, Serendipity, Stepping Stones, Lil Hands Big Dreams or Norwalk Christian Academy during the 19-20 school year already provided a birth certificate.  No need to upload another copy. Students new to Norwalk or did not attend one of the listed preschools will need to upload the birth certificate.
Health Documents-Kindergarteners are required to have a dental screening, vision screening and immunizations completed before attending school.  You may submit your application without uploading these documents and providing them at a later date by emailing registrar@norwalk.k12.ia.us, faxing to 515-981-0559 or mailing to 380 Wright Rd, Norwalk, Ia 50211. Screening forms can be found within the registration application or here.
Fees-Registration and transportation fees will not automatically be assigned to kindergartners until processing is completed.  Processing could be up to two weeks after submitting your registration application. To pay fees: https://norwalk.revtrak.net/
Transportation-Transportation routes and pick up/drop off times will not be handled by location of drop off and pick up. You must register your child by August 1st to guarantee them a spot on the route for the first day of school. You are welcome to register your child after August 1st, but they may not have a spot on the bus for the first several days of the school year.
Proof of Residency-is required for all new K-12th grade families. Registration applications can be submitted without the required document but will be put on on hold until received.

Once you have submitted your application, please allow several work days for the information to be processed. We hope this helps with the registration process!  Feel free to email registrar@norwalk.k12.ia.us with further questions.