English Learners (EL)
As Norwalk grows, so will the number of students who are from homes where English is not the primary language. By law, the district is required to take affirmative steps to eliminate educational barriers facing our non-English speaking students. Such services include instruction in English speaking, listening, reading and writing.
The district's Lau Plan (and appendices) provides guidance and regarding how the district will meet these students' language needs. The ultimate goal of this plan is for "students to be able to take challenging content- level academic courses and be as successful as English-speaking students."  It is the district's hope that not only will all EL students be served appropriately based on their unique needs, but also the community as a whole will welcome and support new families and students who are new to Norwalk.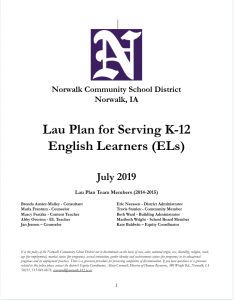 Click on image above to link to Norwalk Lau Plan.