Our Community
The City of Norwalk offers a distinct identity— a family-friendly and economically strong community with a business friendly atmosphere conveniently located in the southern part of the metro. Norwalk shares borders with neighboring cities of Des Moines, West Des Moines and Cumming and serves as the closest suburban community to the Des Moines International Airport.
Norwalk features a newer housing stock, world class schools (in a smaller school district) and some of the best golf around. Voted BusinessWeek's "Best Affordable Suburb" in Iowa in 2010, Norwalk reaps the benefit of being one of the preeminent suburban communities in the Des Moines Metro.
To see our community at a glance, you are welcome to view these videos .
Norwalk is the 3rd wealthiest community in central Iowa with median household income over $81,000.
Third fastest growing community in the Des Moines Metro
For the first time in over 10 years Norwalk has had demolition of dilapidated buildings for the sole purpose of commercial redevelopment
Norwalk has had an increase in population of more than 13% in the last 5 years 
Norwalk has been ranked in the top 10 statewide and nationally for the school district, overall safety, growth rates, best place to live, and best golf courses. 
Norwalk has 619 residential lots platted, and commercial building permits have increased by over 80% since 2015.  This includes Windsor Windows breaking ground summer of 2017, bringing 75 new jobs along with $7.5 million in new valuation. A Pediatric/Family Medicine clinic (Mercy affiliation) opened fall of 2017, adding to our (Methodist affiliation) Unity Point Clinic. Additionally, Post Holdings Subsidiary, Michael Foods, is building an $85 million manufacturing facility that will bring 150 full-time jobs to Norwalk. 

The Economic Development Department showed a 33% increase in new businesses between 2015 and today, 6 expansions, and 14 new businesses that should be opened by the end of 2018. 
Norwalk was one of the first 3 cities in the state of Iowa to establish official governmental international designations (Vushtrri, Kosovo and new member of the Des Moines Regional Sister Cities Commission)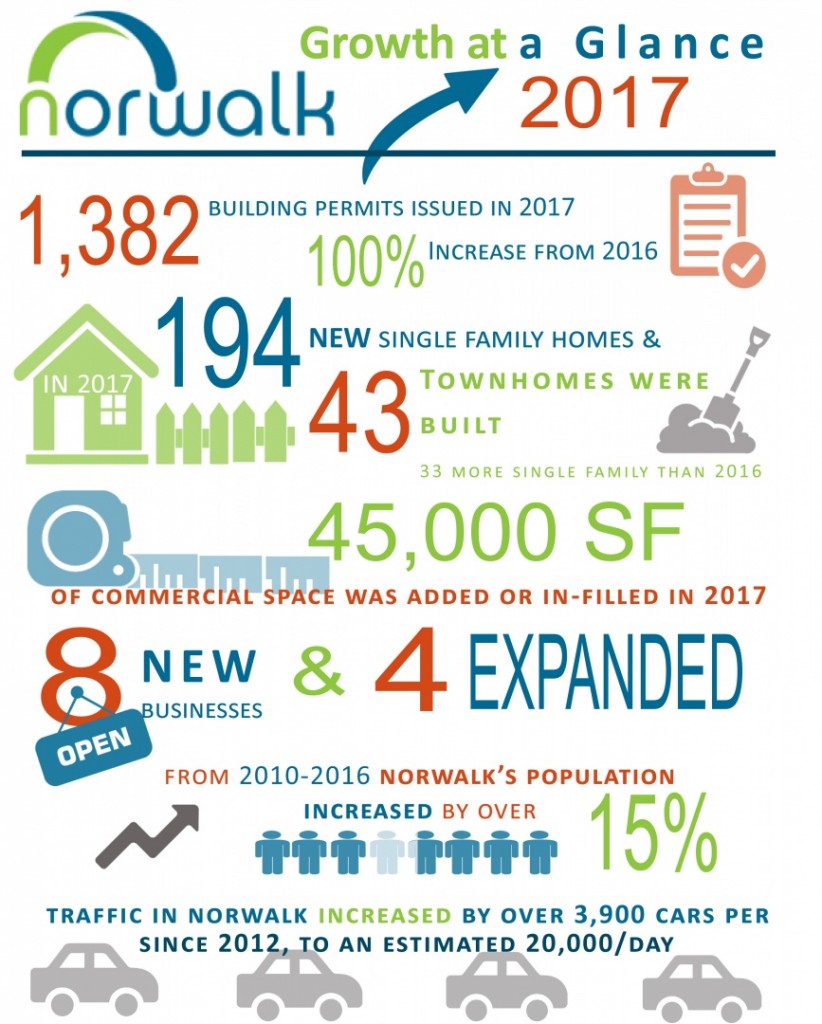 Norwalk has several growth areas that are just now preparing to break loose.  Some of the ideas and concepts coming forward is a new downtown concept.  The developments include mixed use housing that can help provide housing needs for a wide variety of incomes.  It also includes open space for community events.  And all of this with the goal of making Norwalk a more walkable community. Find out more about the City of Norwalk at our city's home page: 
http://www.norwalk.iowa.gov/home
 and our Chamber of Commerce page:
http://www.norwalkchamber.org/
.
          Parts of our school district are touched by other parts of the Des Moines Metro. You can find additional information at their websites listed here:
          As part of the Des Moines Metro, Norwalk benefits when the entire metro grows. We share the targeted industries, knowing when the metro succeeds, so does Norwalk. In addition to the metros key industries, Financial Services, Logistics, Bioscience and Data Centers, and with one of the lowest retails sales per capita in the entire state, Norwalk residents typically shop in neighboring communities, making Norwalk primed for retail development.