About Norwalk Schools

A Note from the Superintendent
Norwalk is one of the fastest growing and successful districts in Iowa. Student proficiency often exceeds ninety percent. Norwalk is annually recognized as one of Iowa's top 25 schools for advanced placement participation.
Norwalk claims three Iowa Teachers of Year, two Principals of the Year, Technology Leaders of the Year, Central Office Administrator of the Year, National Milken Educators, among many others.  Four Iowa Hall of Fame coaches and one National Hall of Fame coach spent exemplary careers at Norwalk. Band and Chorus perennially win Division 1 ratings and lead an outstanding arts program. Alumni Brandon Routh (Superman), Jason Momoa (Aquaman / Game of Thrones), Joel Hanrahan (baseball All- Star) and thousands of other successful graduates make positive contributions to their community, state and nation.
The community supports bond issues and participates actively in planning. This cooperative spirit resulted in an international award for "Innovations in Sharing" between the Norwalk District and the city. Norwalk was also rated as a "Top 100 Iowa Business" by the Des Moines Register. Come to live and grow with Norwalk Schools. "Be a Warrior!".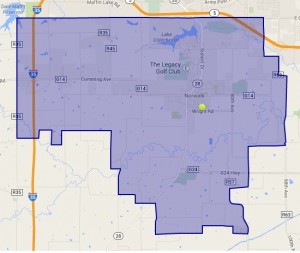 Leading Norwalk Students to a Bright Future
Norwalk High School seniors averaged a 23.5 ACT composite score during the 2014-2015 school year.
Our students score in the 80-90% range in proficiency exams in Reading.
Contact Norwalk Schools
380 Wright Road
Norwalk, Iowa 50211
515-981-0676