As students and staff are anticipating a much needed and well-deserved break, there are many in the Norwalk Community who need assistance and our Warriors have answered the call.
Leadership students from NMS through NHS led a canned food drive in November to help the Norwalk Food Pantry (sponsored by the Norwalk Ministerial Association and housed out of Norwalk Lutheran Church).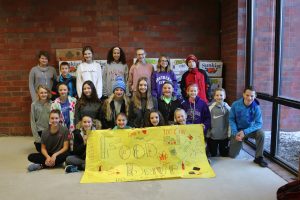 NHS students sponsored a Penny Wars in the last couple weeks as well. The targets for amounts raised? Principal Chris Basinger would get a pie in the face if $200 were raised and Supt. DT Magee would get a pie in the face if students reached $300. The funds would go to help those in need in our immediate community. The person who donated the most would get the honors of pie-ing. AJ ClarkWilt earned the honors (see photos below):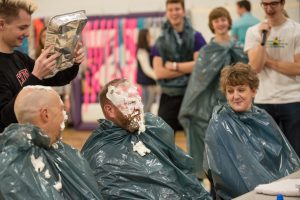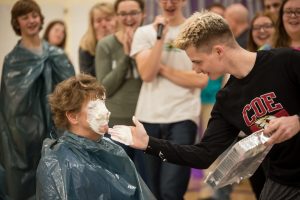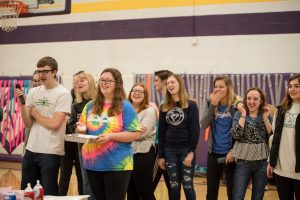 Once cleaned up from the pie-ing, Superintendent DT Magee took it a step further. Dance Marathon-ers have raised over $3000 to aid those affected by Pediatric Cancer and are being treated at Univ of Iowa hospitals. One example of the help that Dance Marathon provides is seen in a Windsor Heights family's story of their 18 month old son, James who was diagnosed with kidney cancer this past July. Dance Marathon paid for all of James' pharmacy medications, provided the family with a medical grade thermometer (so they could tell if his fever was high enough to send him to the hospital) & blood pressure machine (to check on his kidney function) and their volunteers always stop by to play with James when he's in the hospital for a stay. You can view more of his story on WHOTV.com.
Because Norwalk Dance Marathon-ers reached over $3000, Magee offered them the opportunity to duck tape him to the wall of the NHS Gym. Students took turns applying the duck tape to see if he'd stay on the wall or fall once the crate holding him was removed. Norwalk dance Marathon-ers are continuing to raise money with a goal of $10,000 and are selling shirts to prepare for a "yellow-out" at the Jan. 18th basketball game.  Purchase online only: https://norwalk.revtrak.net/dance-marathon-t-shirts/#/list Orders are due Wed, Dec. 19th with a pick up date of Jan. 17th, 2019.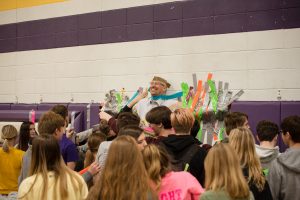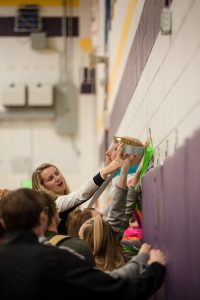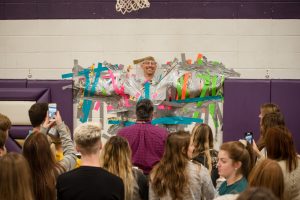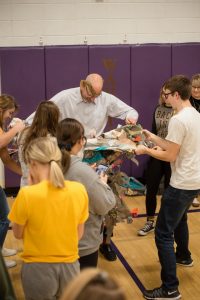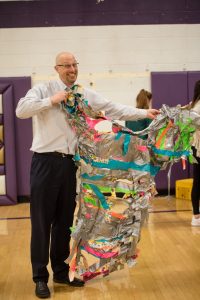 All told, Warriors have raised over $4500 in the last couple weeks to help those in our immediate community and beyond.
Well done, Warriors!