The Music Department is always a flurry of activity and the start of the 2018-2019 school year has been no different. This article serves to update the community on the Music Dept's successes and concert/performance schedule.
Our youngest Warriors on the Instrumental side had their Demonstration Concert on Oct. 25th. The picture below shows just one of the two 5th grade band ensembles. Approximately 190 students have started band in 5th grade this year!! 5th Graders will have their next performance on Dec. 21st at Lakewood Elementary.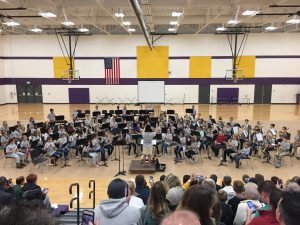 Marching Band season runs August through mid-October (though rehearsals on the music began in May) for our 8th grade band and our 9-12th grade band students. This year, the 8th grade band performed selections from Chuck Mangione including: Land of Make Believe, Children of Sanchez, & Bella Via. Students performed this show at the Indoor Marching Band Night in the High School Gym on Oct. 18th in conjunction with NHS Marching Band. They also performed at Norwalk's Warrior Stadium for the last football home game of the season, Oct. 19th, that was a Pink Out for Breast Cancer Awareness.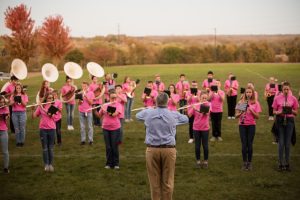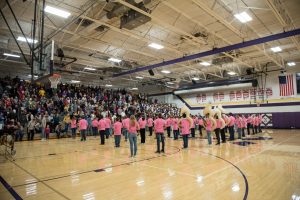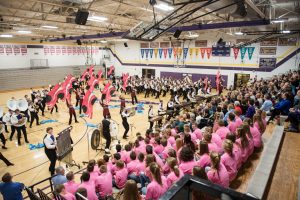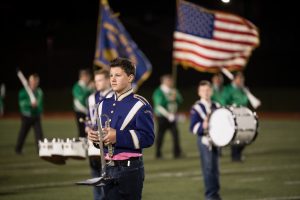 6th & 7th graders had their first concerts Oct. 9th. 6th Grade will perform again on Dec. 4th for their Winter Concert. 7th & 8th grade will perform January 10th for their Winter Concert–both Winter Concerts will begin @ 7pm in the Norwalk Performing Arts Center(NPAC).
Jazz band auditions were held for the 7th & 8th grade middle school students mid-late October. This is the first year that we have enough students to fill a 7th Grade Jazz Band separate from an 8th Grade Jazz Band! Their first performance will be Nov. 26th  at Winter Jazz Night in conjunction with the high school jazz ensembles @7pm, again performing in the NPAC.
SCIBA Honor Band auditions were held for a select 10 students from 8th grade on October 2nd at Waukee Timberline MS. Nominated 7th graders will join the 8th graders to perform Nov. 6th @ Ankeny Centennial. Congratulations to the following students selected:
8th Graders:
Rachel Miller, flute; Emma Irlmeier, clarinet; Sierra Howland, clarinet; Will Chase, alto sax; Jacob Rueber, trumpet; Will Parker, trumpet; Trent Frederick, trombone; Chloe Martin, tuba; Hayley Tracy, tuba
7th Graders:
Natalie Fulscher, flute; Brooke Kimball, flute; Dawson King, tenor sax; Erick Randall, bassoon
The NHS Marching Band had a stellar season competing in the 4A class. They had a great first contest placing 6th at the Linn-Mar Invitational, just 1 tenth of a point out of 5th place.  The band placed 7th (out of 11) 4A bands at Valleyfest and the Color Guard had the 3rd highest score in the class.  Nick Serck was designated as the outstanding marcher.  The band concluded their season on  achieving their 17th consecutive Division I rating at the State Festival and then finishing up at the Waukee Marching Invitational that same day with 4th place in 4A competition.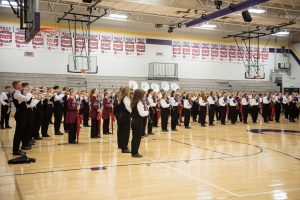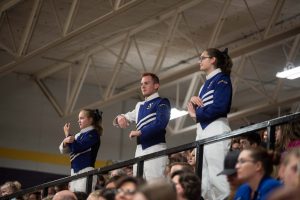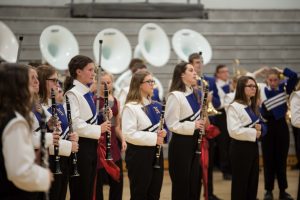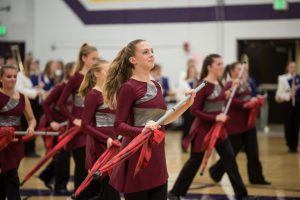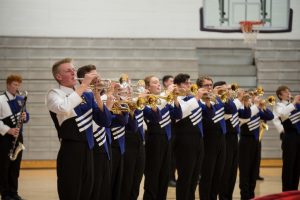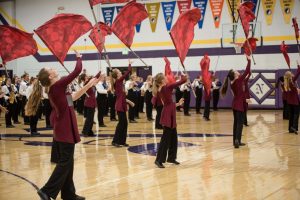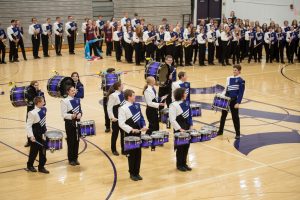 In the midst of marching season, some high school instrumental students were preparing for All State auditions for the All State performance at ISU on Nov. 17th. This is an honor band made up of students from across the entire state of Iowa and a very prestigious ensemble of which to be a part. Of the large group of students who auditioned, we had six students attain honors through the process. Those who made it into the All State Band include:  
Allie Ollila (clarinet)
Levi Benes (bassoon)
Jaden Deal (trumpet)
Those who got recalled:
Aubrey Williamson (flute)
Those who received an Alternate spot (meaning if a student selected into the ensemble isn't able to perform, these Alternates will be called in):
Grace Crady (clarinet, second alternate)
Logan Niefert (tenor sax, second alternate)
Congratulations to the students who auditioned on all their hard work!!
On the Vocal Department side of music, our high school students are in the thick of Madrigal rehearsals for their performance this weekend, Nov. 9th & 10th. Performances are full and tickets are no longer for sale.
Just as Instrumental students were preparing for All State, vocalists prepare as well. While Instrumentalists are more of an individual process, vocalists perform in duets, trios or quartets for judges and individuals can be recalled to be heard again to determine if they make it into the All State Choir or some make it into the ensemble outright. Of the 16 vocalists we had go through the rigorous preparation process for the audition, we had three male vocalists make it through the recall process:
Colin Frederick (Tenor 2)
Andrew Phillips (Tenor 2)
Shaffer Landuyt (Bass 2)
The All State performance is recorded and will air on IPTV Nov. 22nd at 7pm.
An Honor Choir event for our 6th-9th grade vocal students is Opus, which is made up of auditioned students from all across the state of Iowa.  The students who made it in to their respective grade choirs are:
Peyton Reed & Madison Rey (6th grade)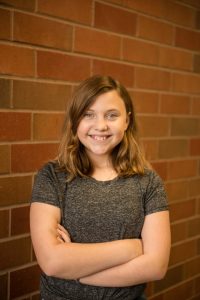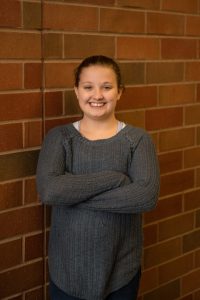 Raleigh Benz & Jack Shelledy (7th grade)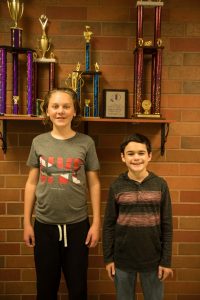 Will Chase & Trent Frederick (8th grade)
Jessica Erickson & Olivia Williamson (9th grade)
Congratulations to the students who auditioned on all their hard work!!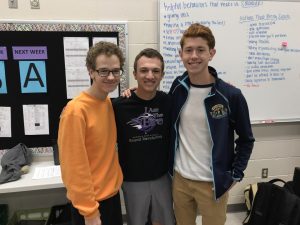 All State vocalists who made it into All State (above) and all who auditioned (below).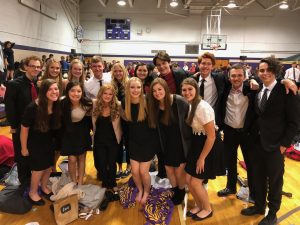 In addition to these students who are honored to be selected into these All State & Opus ensembles, NHS Choir Director, Gerard Krupke, will be conducting the 9th Grade Opus Choir. Congratulations on this honor, Mr. Krupke!
Upcoming Dates Summary (grades K-12):
Nov. 12th–6th Grade Vocal Concert, 7pm NPAC
Nov. 13th–7th & 8th Grade Vocal Concert, 7pm NPAC
Nov. 19th–Show Choir Fall Preview, 8pm NPAC
Nov. 26th-Winter Jazz Night (7th grade Jazz Band, 8th grade Jazz Band, Jazz I & Jazz II ensembles), 7pm, NPAC
Dec. 4th-Instrumental Winter Concert (6th grade bands), 7pm NPAC
Dec. 10th Vocal Winter Concert (8th-12th Grade)
Dec. 21st-5th Grade Band Concert at Lakewood
Jan. 10th-Instrumental Winter Concert (7th grade bands and 8th grade band), 7pm NPAC
Feb. 9th–Large Group Contest (7th grade bands, 8th grade band, and both 7th & 8th grade Jazz Bands) runs throughout the day @NMS & NPAC
Mar. 2nd—Solo Contest (6th-8th grade band students) @NMS
March 12 –1st grade General Music Concert NPAC, Time TBA
April 30–2nd grade General Music Concert NPAC, Time TBA
May 21–Kindergarten.General Music Concert NPAC, Time TBA