In their inaugural year, First Tech Challenge (FTC) Robotics Club for grades 7th-12th grades, began with 5 students involved and gradually grew to 16 students throughout their season.
RoboWarriors, as they're called, competes in meets for the Stearns Robotics League in the DSM Metro. Over the duration of their season, they competed at five League Meets, including ones at Johnston and Lincoln High Schools. From their performances at these meets, RoboWarriors earned the top spot in their League. They then went on to defend that title at the League Championships in January. This ranking qualified the team for the Super Qualifier at John Deere in Johnston.
At Super Qualifier, RoboWarriors competed at a standard high enough to earn an invitation to compete at the State Meet in Coralville, IA on Feb. 23rd and 24th.  At State, RoboWarriors earned 1st in their division and qualified for North Super Regionals.
12 states contributed a total of 72 teams to North Super Regionals. Of the 12-state region, 1425 teams, Norwalk RoboWarriors finished 23rd!!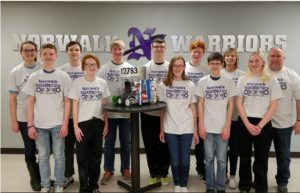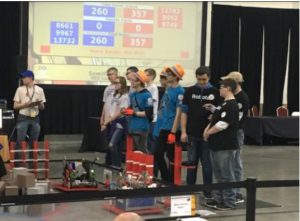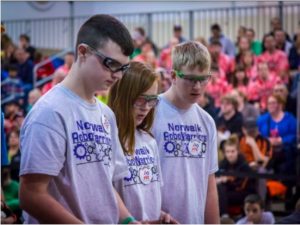 We congratulate RoboWarriors on their outstanding first season in action and look forward to more incredible performances in future years. If you have questions about your student joining this Club, you may contact Jodie Irlmeier at jirlmeier@norwalk.k12.ia.us or Jeff Bergan at bergan.jeff@gmail.com
Team Members
Belden, Caleb (10)
Bergan, Nick (10)
Burch, Kennedy (8)
Chase, Will (7)
Fel, Emerson (8)
Fisher, Sydney (8)
Fisher, Trevor (8)
Frederick, Trent (8)
Groos, Hannah (8)
Lamb, Tyler (8)
Lepley, Maddy (8)
Newland, Eli (8)
Newland, Eva (10)
Pearson, Josh (8)
Wicker, Tyler (8)