Norwalk High School hosted a Signing Day event in the Norwalk Performing Arts Center on Wednesday, Feb. 7, 2018 to honor seniors who will be attending college as an student-athlete. The students heading to college for athletics are as follows:
Abbie Mulford -Basketball Manager -Grandview University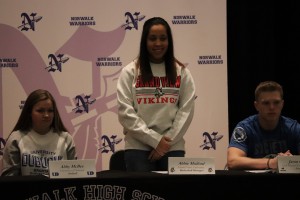 Jaron Onken -Football -Iowa Western Community College
Abby McBee -Softball -Univ. of Dubuque
Drew Rosonke -Football -Upper Iowa University
Romalis Weathers -Football -Colorado State Univ. Pueblo
Cooper Beving -Basketball -University of Wisconsin Stout
Shae Campbell -Basketball -Upper Iowa University
Clayton Hildreth -Football -Central
Allie Gilchrist -Gymnastics -University of Iowa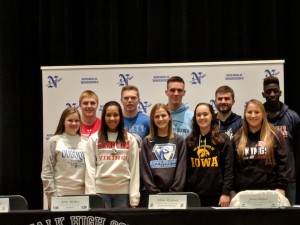 Congratulations and best wishes on your collegiate endeavors on and off the court/field/mat!