Norwalk School District's Peer PE Program has become a more common household term used this school year for all the support the community has given it thus far. They kicked off the year with an incredible project started by NHS Senior, Trinity Hopkey who was a general ed partner in the Peer PE program as a junior last year. She saw a need for adaptive equipment for her special needs partners but was met with budget limitations. After meeting with administration, she moved forward to present to four different Norwalk and Des Moines area groups requesting donations. The Norwalk chapter of Knights of Columbus, City State Bank, Variety Club of Iowa, and 
Norwalk's 100 Men's Club
, all donated to the project, garnering totals over $10,000. Trinity also met with private donors who wish to remain anonymous and the overall total of donations continues to grow. With that money, they've been able to enrich the lives of Norwalk students enhancing an already stellar program.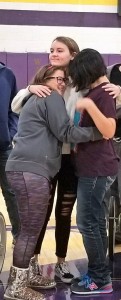 Heartland AEA
describes the class in the following way: "The Peer Partner Physical Education program (Peer Partner PE) is an inclusive approach to physical education that pairs students with special needs with their general education peers (peer partner). The peer partner demonstrates PE activities and motivates the students with special needs to participate in PE class. The program is designed to be adaptive for the special education students to participate. The same sports are played as in regular PE, but with some modifications of activities and equipment."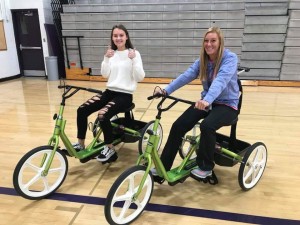 Norwalk High School teacher Michelle Wiedmann heads up the program at the high school and has seen the bulk of the benefits from Trinity's initiative. She describes all the equipment they've selected: "We now have soccer balls, volleyballs, tennis balls, and kickballs that all have sound for our visually impaired students.  We have tactile and light up equipment for our students with Autism, Visual Impairments, Learning and Behavior needs.  We purchased several sets of Ogo Discs, which are also referred to as "hand trampolines"…they are frisbee-like with a bouncy center that you can bounce any type of ball off and play multiple games with.  We purchased oversized volleyballs and playballs, as well.  And then of course the two Rifton Tricycle Bikes.  We are not done purchasing items either.  We plan on purchasing at least two more bikes and some more items for our students who are immobile."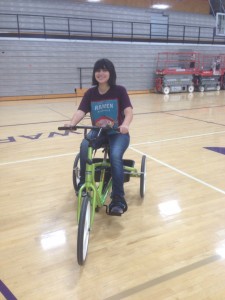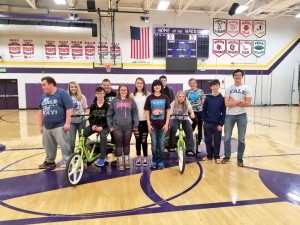 In addition to their indoor-gym activities, Norwalk's special needs students have a variety of job related training opportunities in the community. One student helps with laundry at a local nursing home and cleans tables after meals, other students help sell coffee and hot chocolate before school Monday, Wednesday and Friday at the main entrance to the High School. This helps them learn how to take inventory of items, grocery shopping for the goods, and handling of money and giving change. The selling of hot beverages and morning snacks helps raise money for Peer PE field trips such as fishing at Lake Ahquabi, Howell's Pumpkin Patch, Hot Shot Basketball at Simpson College, Special Olympics Track & Field, and Mini-Golf.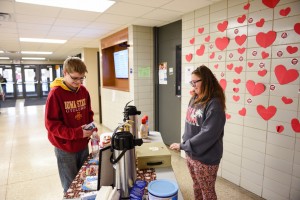 (pictured above: coffee selling in the High School's main entrance and grocery shopping for inventory. pictured below: field trip outings to Howell's Pumpkin Patch and fishing at Lake Aquabi)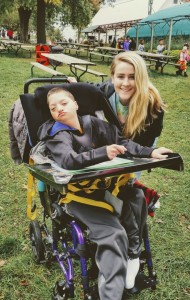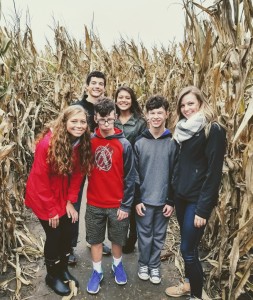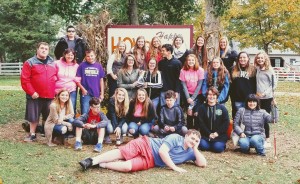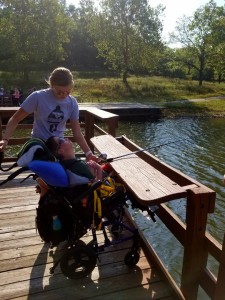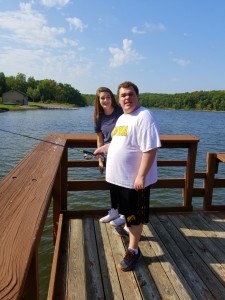 When asked how the Peer PE program at Norwalk has effected the school and students, Michelle describes how it has helped bring more awareness of our students with special needs. Norwalk has incredible students and this program gives them an avenue of service to others while creating a culture of acceptance.  Personally, she says, "Teaching this class has given me a much better perspective on life.  No matter how bad your day is, the students in our Peer PE Class will make you forget and put a smile on your face.  The genuine happiness and excitement they have is contagious."
If you have questions as to how your high school student can be involved, or would like to donate to the program, send an email to Michelle:
mwiedmann@norwalk.k12.ia.us