Lakewood Elementary's Shelly Vroegh was awarded Iowa's Teacher of the Year last fall and she has begun her duties in the role for the 2017-2018 school year. We sat down with Shelly to get to know her some more and catch up with all the things she is doing, representing Norwalk, Iowa all across the state and country.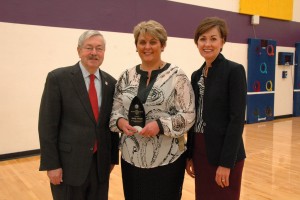 Where did you grow up? What school district? Which teacher influenced you the most growing up and what subject did they teach?
I grew up in Emmetsburg, Iowa. I went to Emmetsburg Catholic School until 8th grade and then to Emmetsburg High School for grades 9-12. I graduated with the class of 1992.
I was extremely fortunate to have many inspirational and hard-working teachers growing up. There are two teachers, however, who were influential in helping shape me into the person and teacher I am today; Mrs. Strube and Mr. Felderman.  Mrs. Strube was my high school U.S. History Teacher and Mr. Felderman taught Government. Both of them were influential to me because they had high expectations for student learning and really prepared me for life beyond high school. Their classes were some of the most challenging but they always made me feel supported and they encouraged me to get out of my comfort zone. Mrs. Strube and Mr. Felderman truly cared about their students and took a vested interest in me as a person and not just a student. They created relationships with me that have lasted into my adult life. Although I don't see them often now,  whenever I do they always know what is going on in my life. This shows me that they truly care about their students beyond the four walls of the school.
     What was your favorite subject in school and least favorite? Do you think the teacher (and if you liked them or not) played a role in that subject like/dislike?
My favorite subjects were reading & writing and my least favorite was math….which is kind of funny because I love teaching math now and I've really worked hard to improve my skills in being an effective math teacher. I do believe the teacher played a role especially in regards to math.  I grew up in a time when math was taught by rote memorization or by the teacher telling us one way to solve problems. There really weren't any opportunities for collaboration with other students, discussions about multiple ways to solve problems or representing problems in concrete ways. It was all done in a very abstract way which was really difficult for me as a visual, tactile learner. I just didn't get the abstract methods or single algorithms my teachers were using to teach math which made my math experiences frustrating.
     What guided you into the career of education? Why are you a teacher?
I really can't remember a time when I didn't want to be a teacher. When I was a young child my parents turned our upstairs playroom into a makeshift classroom for me complete with desks and materials handed down to me from my aunt who was a third grade teacher. I would often try to corral my sister into being my student although that often proved to be difficult because she didn't have the same love for playing school that I did. The biggest influence, however, on my decision to become a teacher was my Aunt Susie. She's just three years older than I am and we were inseparable from a young age. Susie was precocious as a young child and she still is today and much of my childhood was spent being a role model and teacher to her. Susie was my educational inspiration because she has Down Syndrome. Growing up with her by my side made me realize early on that I had an innate desire to work with children no matter their abilities and when it was time to head to college the decision to be an education major was already years in the making. Susie will never fully understand the impact she's had on me as an educator but I am so proud to be her niece and I'm so thankful she's in my life and helped guide me in my career path.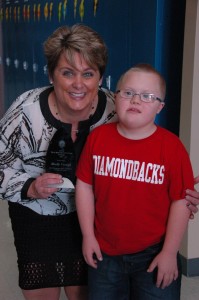 What brought you to Norwalk Schools? How have you seen the district or the program in which you currently teach grow or change?
I really came to Norwalk Schools by chance. I had graduated in December of 1996 and took a job as a 6th grade special education teacher in Knoxville, Iowa. While I appreciated that I was able to secure a job mid-year, it wasn't my "dream job" and coupled with the fact that I was driving from Des Moines every day I decided it would be in my best interest to shop around for another position. I came across a Level II/III Special Education position in Norwalk working at Oviatt, Lakewood and the MAC School. During the interview it became apparent that I lacked a lot of experience to do the job, however,  part of the job required me to be a coach for students who were competing in various Special Olympics activities. I distinctly remember Tom McLaughlin telling me that I probably only knew about 20% of what I needed to know to do the job but that he was willing to take a risk with me because of my passion and enthusiasm toward students with special needs. Once again I had my Aunt Susie to thank because in the interview I talked about my experiences working with her and the Special Olympics.
Obviously the district has grown tremendously in size during the course of my twenty-one years here. When I started teaching here we were graduating classes that had around 120-140 students and there was only around 4,000-5,000 people in the community so we've doubled in size during that time. One of the biggest changes however has come about because of the Teacher Leadership Compensation program. The program which gives school districts additional money each year to create and implement leadership positions for teachers and then compensate them for the additional responsibilities  has changed the way we do business in our schools. TLC has given teachers a better chance to work collaboratively in professional communities to analyze student data and instructional practices with the goal of improved student learning, encouraging teachers to improve their professional practice by giving them opportunities to work with instructional coaches and has given teachers ability to assume more leadership roles within the school. These leadership opportunities have empowered teachers to lead the way when it comes to learning and growing their educational practices. For me, this school reform initiative has made me a better educator because it has given me a greater opportunity to learn from and with my colleagues.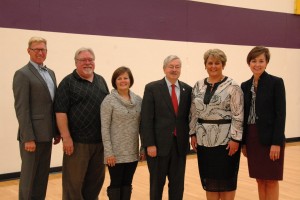 (Shelly is pictured with past Iowa Teachers of the Year Andy Mogle, second from left, and Charity Campbell, third from left, with Iowa Governor Branstad and Lt. Gov. Kim Reynolds)
     What do you feel is your greatest accomplishment as a teacher? As a parent?
My greatest accomplishment as a teacher comes anytime I see a student get excited about learning something new. Along with this it is extremely gratifying when a student is willing to take a risk and grow from his/her experience in the classroom. Some students are often hesitant to take a risk or ask for him for fear she/he will appear to be "not smart enough". In my classroom I try to encourage my students to have a growth mindset when approaching challenges in the classroom. I applaud those students who, no matter their ability, understand that they can improve if they are committed to putting forth maximum effort, using good strategies and asking for help.
As parents our  greatest accomplishment comes anytime someone tells us that our sons are caring, thoughtful, and kind young men. It has never mattered to my husband and me if they were the brightest in the classroom or most talented on the field, mat or court. Instead, it is important to us that they become good people who care about and help others. While we know this is a work in progress, we are extremely proud of the young men we are raising and thankful for the part the teachers, coaches and community played in this endeavor.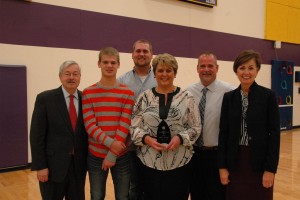 (Shelly pictured with Gov. Branstad, sons Connor and Mitch, husband Troy, and Lt. Gov, now Gov. of Iowa Kim Reynolds)
     How do you want to improve your educational practices?
I believe learning never stops and I try to take the life-long learner mentality with anything I approach in my job or in my personal life. As I continue on in my career one way I work to improve my educational practices is by observing other educators. The time I spend working in others' classrooms as an instructional coach is invaluable to me. It gives me the opportunity to see different perspectives and instructional techniques. I can talk with teachers after these observations and ask questions about what works for students and why. I can use these ideas in my own classroom with my students. I believe learning from and with my colleagues is imperative to growing my practice as an effective educator. Along with this I am constantly trying to connect with educators around the country on social media. Twitter chats have provided me the opportunity to have educational conversations with people who have different perspectives and experiences. I've also grown as an educator through the professional reading I do both on my own and in book study groups with my Professional Learning Community. I am constantly looking for ways to stay relevant in the educational world and it re-energizes me when I can learn from others through observation, conversation and implementation of new teaching practices.
         7.      What do you love about Norwalk Schools? Why would you recommend our schools to someone considering a move for their children?
I love Norwalk Schools because I have always felt supported and encouraged to be the best teacher and person I can be. I appreciate that I have a voice in the decisions we make about student learning. The teachers, administrators and staff  value creating relationships with students and with each other. Norwalk Schools provide an inclusive, caring environment where kids are respected, valued and challenged to learn at high levels. The teachers work collaboratively not only to provide an environment that focuses on teaching the whole child—academically, socially, and behaviorally. Administrators, teachers and staff care about the success of the students in our district and take great pride in providing an environment where students thrive. Norwalk has been a wonderful place to raise our boys and I believe they received the best education in the state from the best teachers.
Anything additional you would like to share with the community?
My husband Troy and I have been married for 21 years. Troy is a Senior Program Manager for Voya Financial and he has worked for them for 20 years. We have two sons, Mitch & Connor. Mitch is a 2014 graduate of Norwalk High School and will graduate in May from the University of Northern Iowa with a degree in Public Relations/Communications and minors in Marketing and Digital Journalism. Connor is a junior at Norwalk High school where he is involved in football, wrestling, track and baseball.  We have lived in Norwalk since June of 2001. We enjoy cheering for the Iowa Hawkeyes and spending time with family and friends in our spare time. We also make time to support the Special Olympics in honor of Aunt Susie.
You can see more information on Shelly at the Dept. of Ed's website: https://www.educateiowa.gov/pk-12/award-exchange-programs/iowa-teacher-year-toy#2017_Iowa_TOY_Shelly_Vroegh