The next two weeks usher in a busy season for the Middle School and Eastview band students grades 6th-8th. Last week, 10 students auditioned for the South Central Iowa Bandmasters Association (SCIBA) Honor Band after weeks of preparing scales and technically challenging etudes. Of the 10 who auditioned, 7 made it into one of the three bands that perform on November 7th at Ankeny Centennial High School. There is a separate list of nominated 7th graders that Norwalk band directors submit for consideration and of that list, two 7th graders were accepted. At the performance on Nov. 7th, there will be a band made up of the top 100 nominated 7th graders, a band of a mix of nominated 7th graders and auditioned 8th graders, and a band of the top 100 8th graders to audition. All 300 students will be considered the best band students of music programs in the South Central region of Iowa.
Pictured below are the 8th graders who earned a spot into one of the three honor band ensembles:
(left to right: Hannah Groos-alto sax, Alison Pothast-clarinet, Alaina Joss-clarinet, Jackson Goshon-trombone ,Emily Juergens-trumpet, Grant Kimball-tenor sax, Royce Clark-bari sax)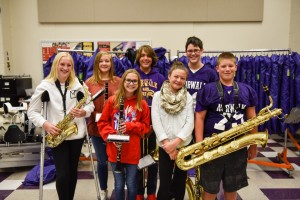 Pictured below are the 7th graders who were nominated and were selected to perform in one of the three honor band ensembles:
(left to right: Emerson Fels-bassoon and Will Chase-alto sax)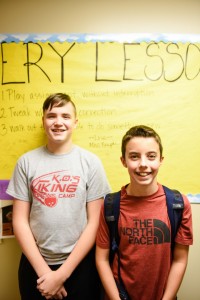 Additionally, this week, 6th and 7th grade band students will have their first concert of the school year on Thursday, October 12th at 7pm at the Norwalk Performing Arts Center (NPAC). 8th graders will perform the culmination of their marching band unit of study by performing at this Friday's home game half time show. This year's show is honoring the band Chicago in their 50th anniversary year, featuring songs '25 or 6 to 4′, 'Saturday', and 'Make Me Smile'. The ensemble will perform the show a second time in conjunction with the High School marching band's Rumble in the Gym performance on Thursday October 19th at NHS Gym.