What are the Norwalk Schools' proposed construction projects?
Construct a New Elementary School

2nd and 3rd grade students
750 student capacity (similar to Oviatt and Lakewood schools)
30-32 regular classrooms, in addition to sp ed, computer labs, art, music, gym, and a cafeteria
Purchase of land at 5516 G14 Hwy (Immediately west of Norwalk Water Tower)
Bus drive, parent drive for pick-up/drop off, parking & turn lane off G14 Highway
Oviatt Elementary:

Construct additional cafeteria and kitchen space to reduce the time required to serve lunch from 3.5 hours to 2 (current cafeteria only has space to serve 200 students at a time, requiring multiple lunch periods to accommodate the building capacity of 750 students)
Increase security measures at the main entrance and relocate the office on the west.
Construct larger art and music classrooms in a central location to meet bldg. capacity
Replace obsolete heating, ventilation and air conditioning equipment (HVAC) equipment.
Replace obsolete electrical systems that include technology wiring
Pave remaining SE gravel parking area.
Middle School:

Expand corridor space to improve circulation between classrooms and Eastview 8/9
Increase security measures at the main entrance and remodel the offices to improve functionality, especially for student nursing services.
Replace obsolete heating, ventilation and air conditioning (HVAC) equipment.
Replace obsolete electrical systems that include technology wiring.
General remodeling of classrooms and bathrooms with new ceiling, flooring and paint.
Paving of gravel areas south of the MS.
High School:

Renovate the HS media center to meet increased technology.
Expand corridors to improve circulation.
Renovate career technical education (CTE) areas as the construction budget will allow.
Remodel main building entrance to improve security and add a modern, more attractive character to the building.
---
How much will the proposed projects cost?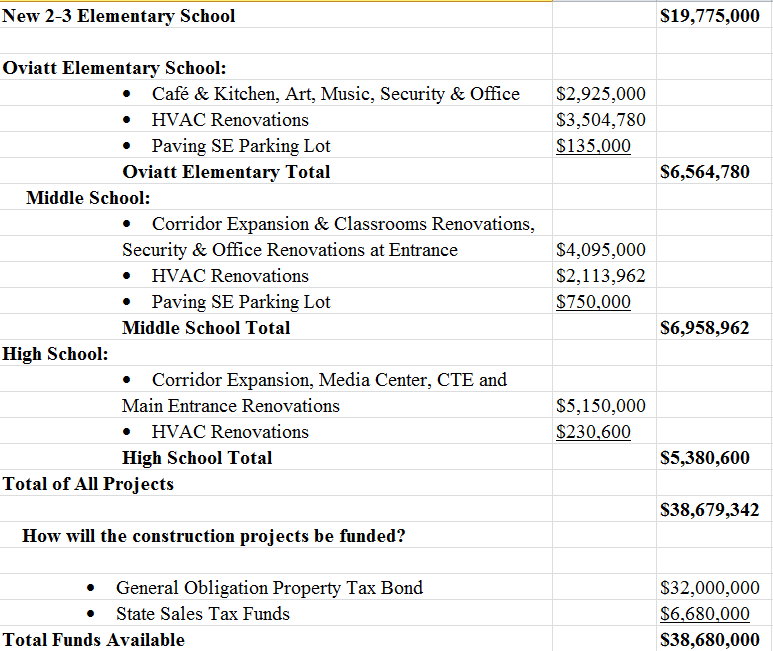 ---
What is the timeline for the proposed construction projects?
Below is a tentative timeline for all of the proposed construction projects:
May 2017 – December 2017:  Oviatt Elementary project to expand the cafeteria and kitchen, remodel the main entrance and office spaces, construct two new classrooms for art and music and pave the remaining gravel SE parking lot and drive.  All mechanical improvements may not be completed until summer of 2018.
March 2018 – August 2020:  New Elementary School construction to serve 2nd and 3rd grade students, sized to serve a capacity of 750 students (similar to Oviatt and Lakewood schools).
March 2018 – August 2019:  Middle School corridor expansion, architectural improvements to include new carpeting, ceilings, paint, and other general building renovations, remodel the main entrance and office spaces, and replacement of major heating and cooling equipment, electrical wiring and technology wiring.  Paving of south parking lot and drive if funding is available.
March 2019 – August 2020:  High School corridor expansion, renovation of the career education classrooms, main entrance and architectural improvements to include new carpeting, ceilings, paint, and other general building renovations, and replacement of major heating and cooling equipment, electrical wiring and technology wiring.
(The timeline listed above is subject to change to create efficiencies in project bidding and accommodating classroom scheduling during construction.)
---
When is the bond election?
February 7, 2017, 7:00 am to 8:00 pm at St John's the Apostle Catholic Church, 720 Orchard Hills Drive, Norwalk, Iowa
What challenges led to the calling of the 2017 Bond Election?
Enrollment continues to grow by 50-90 students each year, requiring additional classrooms and other facility spaces.
Oviatt and Lakewood elementary schools are projected to be at capacity in 2020.
MS is an older facility requiring major electrical, heating, ventilation and air conditioning maintenance and general building improvements.
HS career and technical educational classrooms (CTE formally called vocational programs) date back to the 1970's. These classrooms need to be renovated to meet technology advances and science, technology, engineering and math (STEM) instructional applications.
How was the construction budget prioritized? 
In 2013 a Facilities SIAC committee was organized to identify and prioritize facility needs.
The District conducted a detailed parent and staff survey in 2015 to identify priorities.
A demographer was hired to project K-12 enrollment and the construction of the new elementary was driven by increased enrollment data.
School architects (FRK Architects of West Des Moines) and engineers (Farris Engineering and Morrissey Engineering both of Omaha) conducted a facilities assessment of each building, including Eastview (new building in 2007) and Lakewood Elementary (major renovation in 2010). These professionals reported areas of non-compliance with current fire and safety codes, handicapped ADA deficiencies, energy inefficiencies, and obsolete equipment.
School administration and staff were interviewed during the assessment study to provide recommendations to improve building operations and classroom instruction.
Why did the District purchase land for the new school?
Oviatt and Lakewood are large buildings, sized to handle 725-750 students. It is not practical or advisable to add more classrooms to either of these schools.
The new school requires a minimum of 18-20 acres.
The District did not have sufficient land available at any of the current campuses to build a new school
     What criteria did the District follow to determine the land site?
Safety
Adequate sized property (minimum of 18-20 acres)
Site that required minimal costs for site prep (flat ground)
Availability of utilities
Proximity to current and future arterial roads
Location to current and projected student populations
Distance to other attendance centers
Flexibility of site for school positioning
    How was the land price determined?
Through negotiations based on two independent land appraisals and comparisons of recent property sales near the site.
Why did the District purchase 80 acres when the site required approximately 20 acres?
This parcel of land required a minimum sale of 80 acres. It was not an option to purchase just 20 acres.
The total cost of 80 acres at this location was comparable to the cost to purchase 20 acres at other sites that were considered due to location and developmental costs for street, utility extensions and other improvements.
On the 2015-2016 SIAC Parent Survey 67% of the respondents that had a preference recommended the district should purchase additional land for future growth.
The land is an asset for the district and the value will be realized by the community.
How will the District use the additional land?
The Board has several options to consider in the future. Below are a few:

Use the land for a future school or other school construction purpose.
Explore a joint project with the City of Norwalk.
Sell the ground for private development.
How was the amount of the Bond Election determined?
District architects and construction managers provided cost estimates for all of the identified building renovations, improvements and the new elementary. Projected costs exceed $43 million.
District financial consultants determined the projected maximum capital project funding based on the availability of general obligation property tax bonds was $32 million and sales tax bonds was $6.2 million, totaling $38.2 million.
The list of facility needs and improvements was prioritized based on the greatest need.
The District has reduced the total project cost to $38.2 million to fund the projects of greatest need.
Why is it critical to meet the timeline?
Enrollment projections show that Oviatt and Lakewood will reach capacity in 2020—Construction of the New 2-3 Elementary needs to start in 2018 to be completed for the fall of 2020.
The HS career and technical education programs will be at-risk of being non-compliant with new state legislation if improvements do not occur in these CTE classrooms.
Oviatt will need to expand the lunch time from 3 hours to 4 hours to accommodate all students. Currently lunch begins at 10:30 am and ends at 1:30 pm.
More money will be spent in HVAC equipment repairs rather than saving money with new efficient heating and cooling equipment.
Security improvements requiring all visitors to go through the main office at Oviatt and the MS will be deferred.
How far into the future will this construction program support the district?
These school improvements are expected to provide adequate classroom capacity until 2025 when the secondary classrooms are projected to reach capacity.
Other projects that have been deferred, such as a new high school gym package may be considered sooner or later, depending on the availability of funding or the community's expectations.
If enrollment growth should escalate at a higher rate, that could accelerate the timeline.
What will happen if the bond election is not approved by voters?
Class sizes will increase significantly at Oviatt and Lakewood as enrollment grows.
Security at Ovaitt, MS and HS main entrances will not be improved
Oviatt will need to expand the lunch time from 3 hours to 4 hours to accommodate all students.
Hallways at HS and MS will get more crowded as enrollment grows, creating even more unsafe bottlenecks.
Old, unreliable heating and cooling equipment will continue to need expensive repairs.
Technology advances will be limited due to a lack of wiring.
Students in HS CTE programs will fall further behind students in other schools with modern classrooms.
When was Norwalk School's last bond election?
The last bond election was in February of 2008 for the Lakewood Elementary addition and school renovations.  The bond was $8.4 million and it was approved by 82% of the voters.  The Lakewood renovation project transformed an old building into a modern, efficient school where kids and staff are able to have a great educational experience.
  Will the passage of the bond increase my property taxes?
No.  The passage of the bond issue in February will not increase the Debt Service levy.  The State of Iowa caps the annual debt service levy at $4.05 per $1000.  The District began maximizing the annual levy at $4.05 in 2013.  Raising the levy to $4.05 allowed the District to repay more principal each year, reduce interest costs, increase borrowing capacity for future projects, and sell a bond without raising the levy.  Building the $4.05 levy into the annual budget enables the District to manage enrollment growth without raising the levy
What is the difference between a "levy" and "property taxes"?
A "levy" is the rate per $1000 of taxable property value that a governmental entity such as a city, school or county certifies to the county auditor each year to generate revenues.
"Property taxes" is the dollar amount determined my multiplying the levy per $1000 by the taxable valuation.
What is the district tax rate and how are the funds used?
The District's total levy is currently $20.48 and the breakdown is as follows.
General Fund Levy                                    $13.73
Physical Plant & Equipment Levy            $1.67
Management Levy                                     $1.03
Debt Service Levy                                     $4.05 (Will not increase)
General Fund levy pays for the day-to-day operations, including employee salaries and benefits compensation, textbooks, instructional supplies, utilities, bus transportation, etc.
Physical Plant & Equipment Levy (PPEL) levy funds building maintenance and large equipment purchases including school buses, copiers and computer software.
Management levy funds property & liability insurance and unemployment costs.
Debt Service levy pays annual interest and principal for the repayment of capital projects and improvements.
     How are the property taxes calculated?
$200,000 Market Value of a home.
Reduced by the 57% Rollback to a $114,000 Taxable Value.
School Tax Levy Rate of $20.48 per $1000 of Taxable Value.
Total Tax Due equals $20.48 times $114 ($114,000 divided by $1000) or $2,334.72.
What is the difference between a bond and levy?
BOND:  Bonds for government organizations are like a capital loan for a business or a mortgage for a homeowner.  The bond holder or investor loans the school district funds at a competitive interest rate and the District repays the bond, with annual interest payments, over a period of 10 to 20 years.  State law requires voter approval prior to the district selling any bonds and school districts can only issue bonds for the purpose of facility construction and furnishing.  They cannot use bonds for operational expenses.
LEVY:  A levy is an annual tax rate certified by a school district to raise or continue property taxes for a limited number of years to generate the cash required to make the annual principal and interest payment to repay the bond or loan.
---
How does Norwalk School's total levy compare to other area school districts?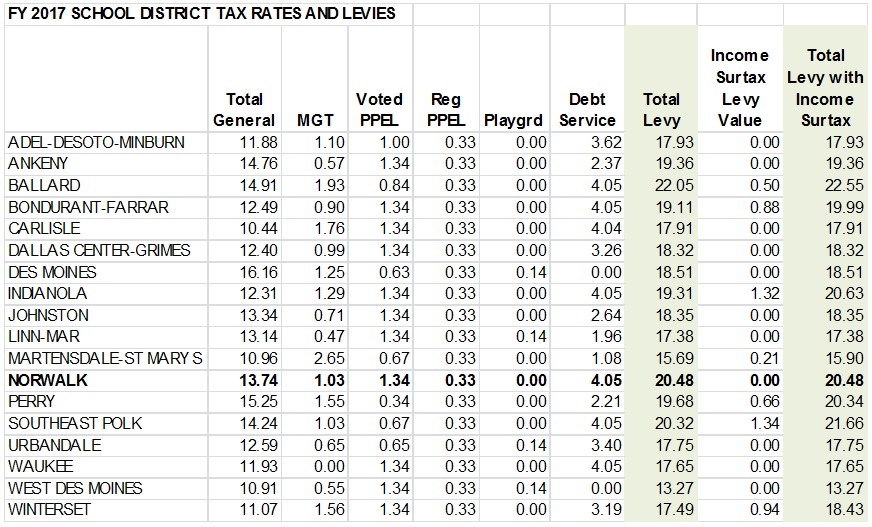 ---
I am going to be out of town on 2/7/17.  Can I submit an absentee ballot?  If so, where and when can I obtain one?
You can vote in person directly at the Warren County Auditor's office Monday through Friday, 8:00 am to 4:30 pm at the Warren County Administration Bldg on Buxton Avenue in Indianola.  You can also vote absentee by mail.  Link to obtain absentee ballot form:  https://sos.iowa.gov/elections/pdf/absenteeballotapp.pdf  The Auditor will send you an official ballot.  It must be postmarked by February 7th.
Why is Norwalk's total levy the second highest in the Des Moines and surrounding area? Many districts have much newer schools and there is a mix of both smaller and larger schools, so it's not necessarily dependent upon district size.
You are correct, size of the district does not determine the levy.  A school district's total levy is primarily a function of the district's property value on a per pupil basis.  Norwalk's property value per student currently ranks 324 out 335 Iowa school districts on a scale of highest to lowest.  This means for Norwalk to generate that same amount of tax revenue the levy must be higher than average.  Example:  Urbandale Schools has a property value of $338,574 per student compared to Norwalk at $183,763.   If the levy is $10 per $1000 a student in Urbandale would generate $3,386 compared to the Norwalk student generating $1,838.  The State limits the total levy rate for bond debt to $4.05 per $1000.  Norwalk generates far less revenue at the $4.05 cap than other districts with higher valuations, but the cost to construct a building in Norwalk is very similar to other areas across Iowa.  The State of Iowa provides state aid to equalize funding per student in the General Operating Fund but does not provide revenues to equalize per pupil funding for school maintenance and new construction.  That is why renewal of the State Sales Tax for schools is very important to provide additional construction funds for low property value districts. Another reason for a lower levy is that Districts with stable or declining student enrollment are not required to build classroom additions or new schools.  Those districts may not need the full $4.05 debt service levy where Norwalk is challenged at a $4.05 levy to build new classrooms and facilities on a regular basis, as well as maintain our current buildings.
I understand the need to finish the Oviatt parking lot, but question the need to pave the MS SE parking lot which is essentially only used for the ball fields. At three quarters of a million dollars, isn't there something else the district could use that money for? Most schools have dirt access to at least some of their fields. Is it really a "need" or more of a wish?
The District has several additional construction and school improvement projects that were not advanced for the 2017-2020 proposed projects.  Some are smaller in nature, like installing new carpet at Oviatt and others are very large like constructing a new varsity competition gym.  Projects like paving the baseball/softball drive are tough ones to consider.  This project has been deferred twice in the last 12 years and it may be deferred again due to higher priority needs.  Safety is a concern with all the traffic and gravel dust, as well as the annual costs to maintain the drive with the purchase of gravel and dust suppression.  Providing handicapped parking and walkways for individuals attending the games is a challenge with gravel lots.  Controlling the water runoff is also a constant maintenance item as well as snow removal.  Parent surveys have indicated a strong preference to install hard surface drives and parking lots.  Paving the drive may need to be deferred again to reduce the total project cost to balance the budget.
My concern is regarding the new elementary school, not so much in the actual construction, but in the determined serving of grades 2-3. I am wondering about the projected growth rates of Norwalk and if we will need a fourth elementary school in the future? Is this possibility being discussed and if so a plan to transition?
Enrollment growth projections indicated that both Oviatt and Lakewood schools would be at capacity around 2020 with each building serving approximately 750 students.   Neither of those buildings or campuses is able to accept another wing of classrooms.  During 2014-2015 the SIAC committee was charged with researching the best grade configuration for the new elementary school.  The committee conducted a parent and teacher survey.   Over 50% of the parents and teachers recommended the new elementary school serve 2nd and 3rd grade students.
My second concern is bussing and transportation. I will have four kids in four schools on four different busses. That transportation, frankly, makes me nervous when I think of the complexity.
Student transportation is a growing challenge for all districts.  Maintaining student safety is job one and it starts with good bus drivers.  I understand that families with multiple students may ride different buses.  Maintaining efficiencies and the length of time a student is on the bus are also goals.  The current system works well and students do a great job learning how to navigate the bus transfers.  We are aware the new school will create new challenges but it will also create opportunities. The District will make adjustments as needed to accommodate the new elementary school.
You mention that the Debt Service Levy will not increase, but what about the other components of the district levy (General Fund, Physical Plant & Equipment, and Management). Will those components of the total levy increase?
The General Fund Levy is primarily dependent upon three factors:  change in enrollment; change in the State per pupil tuition amount; and a change in property values.    All Iowa schools are funded on a per pupil basis and the amount per student is determined by the Iowa legislature each year.  The current per pupil tuition amount is $6591.  The tuition revenue is a combination of state aid and local property taxes.  If enrollment goes up, the total revenues will go up and possibly increase the levy.  If the state increased the per pupil tuition amount, that could raise the levy.  If property values increase that force works to decrease the levy.  On average, the property values in Norwalk increase at 5% per year.  The last item that could impact the General Fund levy would be if the state did not fully fund their share of the per pupil amount or the state per pupil funding was not sufficient.  Then the District may need to increase the levy to offset the state reduction.  The Physical Plant & Equipment levy is currently set by voter approval at the maximum allowable so it will not increase.  The Management levy pays for the District's annual property and liability insurance.  It tends to be fairly stable.  The District intends to avoid any increase in the General Fund levy but is not able to make guarantees due to unforeseeable circumstances.
I am wondering if anyone has considered the traffic that will develop on G14? Has anyone from the City or DOT studied the traffic (in the mornings from 7:00 to 8:00) from Redwood to Hwy 28? It is hard some mornings now for people to get on Hwy G14 – people going to work, teenagers going to school, and business trucks – not to mention the emergency route for I-35.
Safety for public access and busing was a top priority in evaluating all of the potential locations for the new school.  Developing plans for safe drives off G14 is a top priority on this site as well as working to develop a second access point.  The Board had several discussions with the civil engineer prior to the purchase of the land and allocated a budget to construct a turning lane off G14.  Now that the land purchase is public, the School has met with the City of Norwalk to develop plans further.  Traffic on G14 is growing and will continue to grow as more property is developed west of Norwalk.  The District will coordinate our planning with the City based on recommendations from professionals.
You talked about a turning lane on G14. Where will that be? I now live South of G14 on Marie and some days it now is impossible to get onto G14. To make the traffic workable at all you will need a turning lane on G14 from Highway 28 to the new school. My husband hates stop lights, but I think also, that a new stop light will be needed at Aspen and G14, to allow people to exit onto G14 from both the church, which houses a day care, and from the development we live in.
The School is collaborating with a civil engineer to design​ a turning lane along G14 directly in front of the new school to accommodate parents entering and exiting the school drives.  This 3rd lane will also allow thru traffic to flow more freely.  The final plans must be approved by the City of Norwalk and possibly Warren County.  The School District is working with City officials ​to address the potential traffic increase on G14. The City understands the street is currently congested at certain times of the day and improvements may need to be made to accommodate traffic flow.  The City is working with a traffic engineer and is considering a traffic study to provide potential solutions.
​
Are Oviatt and Lakewood going to change what grades they have? (i.e. Oviatt K-1, new school 2-3, and Lakewood 4-5?) This seems like an awful lot of transitions for Norwalk students! From K-9, every two years a new school, new routine, etc?? Has there been any discussion about making all three schools neighborhood schools instead?
Yes.  Oviatt will serve PK-1 students and Lakewood will return to a 4th and 5th grade ​upper-elementary school.  Enrollment growth projections indicate that both Oviatt and Lakewood schools will be at capacity around 2020 with each building serving approximately 750 students.   Neither of those buildings or campuses is able to accept another wing of classrooms.  During 2014-2015 the SIAC committee was charged with researching the best grade configuration for the new elementary school.  The committee conducted a parent and teacher survey.   Over 50% of the parents and teachers recommended the new elementary school serve 2nd and 3rd grade students. This data had the greatest impact on determining the new elementary would be a grade level school like Oviatt and Lakewood.  As the District continues to grow future SIAC committees will need to consider the grade configuration for additional​ and current attendance centers.  The Board has decided to design the new elementary building such that it could easily be transitioned to a K-5 attendance center in the future.
The bond that was passed in 2008 increased the levy to the maximum levy rate allowed $4.05. It was my understanding that this levy rate will expire in the future if the new bond is not passed to extend. Is this correct? If yes, when would the rate expire? 
 
Correct.  Currently the District has four outstanding general obligation property tax bonds.  All were originally issued for a 20-year period following voter approval.  One is related to the 1997 HS Science & music room additions, another to the 2001 Oviatt addition, another to Eastview 8/9 & HS remodel in 2005 and the last one is related to the 2008 Lakewood addition.  The District has refinanced all of these bonds to reduce the total interest cost and in some cases reduced the repayment period.  In addition, the District has maintained a $4.05 annual levy to repay the current bonds sooner and prepare for future construction projects.  All current bonds are scheduled to be paid off in 2028.  If the voters approve the upcoming bond, the debt levy will not increase but the payment period will be extended for another 20  years.  However, in the future the annual debt levy rate may decrease from $4.05 depending upon the growth of property values and the financial needs of the District to meet enrollment growth.
Have Solar Panels and other renewable energy options been considered and/or included in the new elementary or as part of the school improvements? If not why not?
The district commissioned two independent engineering firms to review the mechanical and electrical systems and submit recommendations.  The mechanical and electrical engineers of the firm selected have offered several efficiency and "green" energy options.  Solar panels was one option as well as geothermal.   Wind energy has been briefly discussed but the investment is probably cost prohibitive. Solar panels are being considered in select areas, primarily with the new building.  We have learned that Iowa limits the percentage a building may be operated using solar energy,  Another factor would be that energy rates, both kilowatt hours and therms, are very low in our area, making the payback on some energy efficient investments less attractive.  However, Iowa building codes are requiring more green and energy efficient systems.  We are still in the planning stages but will be working with an energy audit firm (Weidt Group) to perform a cost-benefit analysis to determine the most economical mechanical systems.